In 1896, Henri Becquerel discovered what would become known to the world as radioactivity. The term was coined by Pierre and Marie Curie, the Franco-Polish couple who studied it for many years.
During the years of the Second World War, all nuclear energy research was focused on the atomic bomb, which was finally created in 1945. In August 1945, more than three months after Hitler's suicide, Mussolini's execution, and Germany's surrender, the American government decided to bomb Hiroshima and Nagasaki, in Japan. More than 200,000 people died.
In the years that followed the war, nuclear power research progressively shifted towards electricity production. After its first commercial operation in the 1950s, nuclear energy became more and more important for our society: Today, around 10% of the world's energy production comes from the 440 nuclear power reactors scattered around the globe.
Nuclear Waste: What It Is and How It's Used
Nuclear energy is produced when the atoms contained in certain elements are divided. The process — called nuclear fission — happens in nuclear reactors, or power plants. The fuel used for the reaction is made of small particles of uranium; when they are split, they create a chain reaction that produces heat, which is then used to produce energy.
When nuclear fuel is used, a small part remains: Nuclear waste. This waste can be divided into three categories, based on its radioactive potential:  High (HLW), intermediate (ILW), and low (LLW). 
Much of the waste is low-level waste — contaminated clothes and tools are an example. A small part of the waste, roughly 3%, is high-level. Even though it is so small, it contains 95% of the total nuclear power's radioactivity. 
Sometimes, the radioactive level of the waste generated by nuclear power is so low that it can be stored for a period of time — until it stops being radioactive — and then disposed of as non-nuclear waste.
Because nuclear power is incredibly energy-dense, very little is required to produce massive amounts of energy. Consequently, even the waste produced is very little compared to other sectors.
However, considering the growing market for nuclear energy, more actions are needed to properly manage nuclear waste.
Although the gross nuclear electricity production in the EU decreased over the last two decades, the global use of nuclear energy has been growing rather steadily over the past 50 years.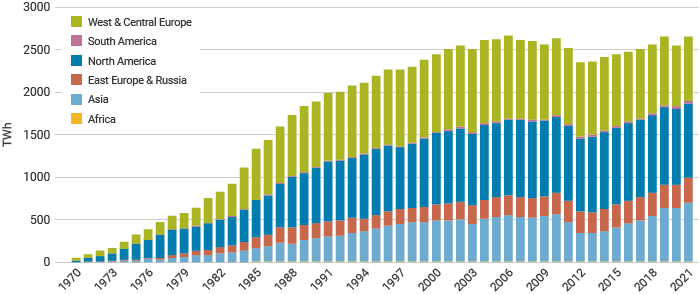 Nuclear power is used in more than 50 countries. Unsurprisingly, the USA is the biggest consumer of nuclear energy, followed by China, France, and Russia.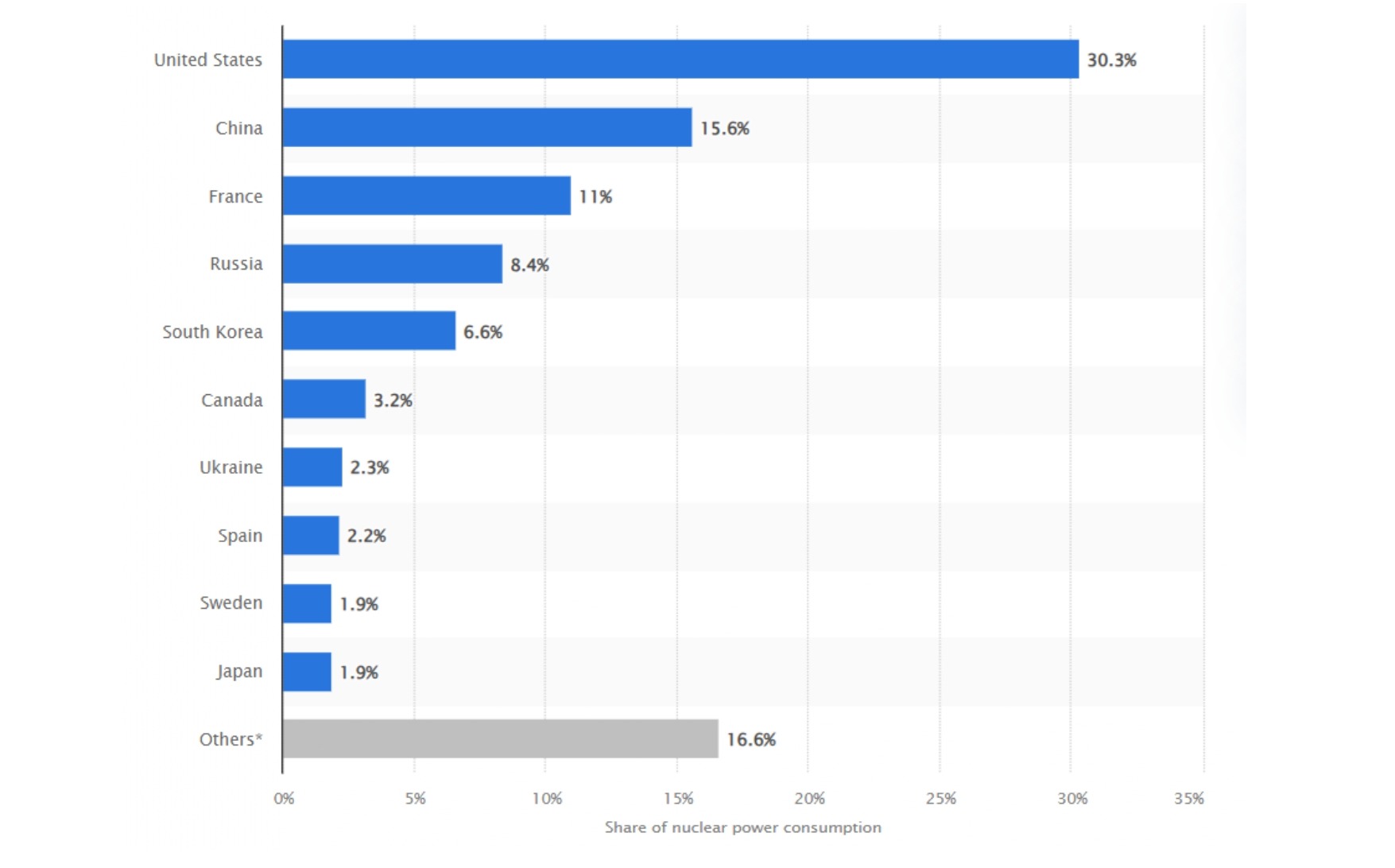 Where Does Nuclear Waste Go?
Usually, after the fuel has been used, it is stored in a storage pool to cool down; the process takes between two and five years. Then, it is transported to dry steel reinforced containers, where it stays until a permanent disposal site becomes available.
Many countries have decided to build new facilities to accommodate the growing need for nuclear waste storage space.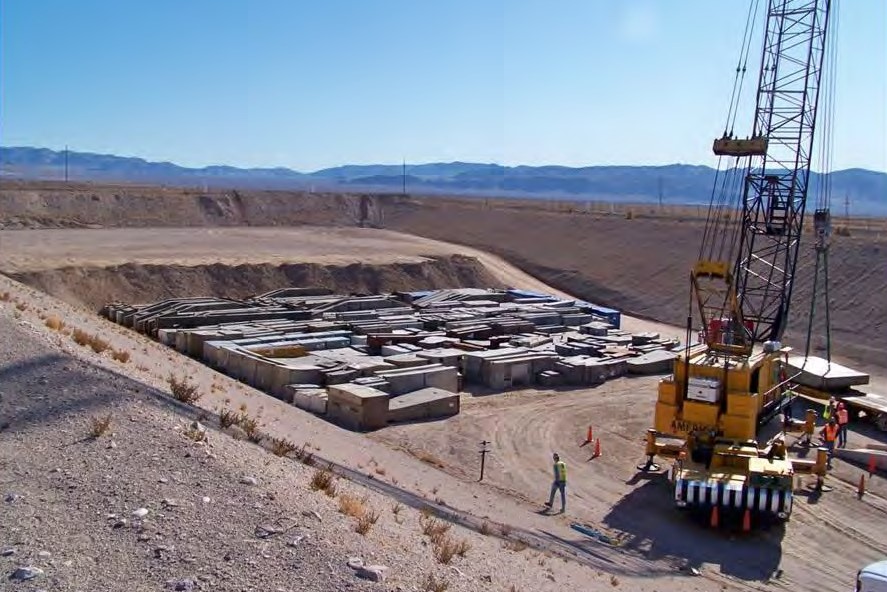 Mikhail Chudakov, IAEA Deputy Director General and Head of the Department of Nuclear Energy, stated that "[t]he successful management of radioactive waste and spent nuclear fuel underpins the peaceful use of nuclear technology in all its facets, from low-carbon energy production to medicine and industry."
---
---
Waste disposal is not the only way used nuclear fuel can be treated. Recycling is also possible. Even though major countries — such as the USA — still treat it as waste, some countries are starting to recycle it. 
Most of the recycling process focuses on extracting plutonium and uranium from the waste, because they can be reused in conventional reactors. France, Japan, Germany, and Russia, among other countries, have all created energy using the plutonium recycled from nuclear fuel. 
Should We Be Worried?
Critics of nuclear power argue that it cannot be used safely. They worry that power plants might leak or break, contaminating the surrounding area and destroying the life around it.
This concern is not groundless. In 1986, the nuclear reactor in Chernobyl, Ukraine, exploded, releasing huge amounts of radiation in the atmosphere and killing 31 people. 
The explosion had detrimental physical and psychological effects on people. According to the United Nations Scientific Committee on the Effects of Atomic Radiation (UNSCEAR), more than 20,000 thyroid cancer cases documented in the years that followed the disaster can be connected to the explosion.
As for the psychological effects, suicides, alcohol abuse and apathy are three of the main consequences of the disaster.
The Chernobyl disaster also had devastating effects on the environment. The pine forest surrounding the power plant died; fish, cattle, and horses in the area either died or were so radioactive that people could no longer eat them.
Since then, there has not been a nuclear disaster this big. Some go as far as saying that worrying about nuclear energy is entirely pointless. The World Nuclear Association argues that, in case of a leak from the nuclear power plant, the results would not be visible. 
"[T]he environment we live in, as well as the human body, is naturally radioactive. Radiation is an unavoidable part of life on our planet, and life evolved and is thriving in this radioactive environment, and the doses from a nuclear waste repository would be almost 50 times smaller than the average background radiation."
Although it is true that nuclear energy can be used as a clean energy source, should we really do it? The stance of the European Union is clear.
Nuclear Energy and Sustainability
Towards the beginning of last year, the EU declared that they were considering labeling nuclear power as a "sustainable investment." In July 2022, the proposal was approved: nuclear energy is green.
However, sustainability includes many aspects of life. Radioactive waste might compromise the wellbeing of large groups of people in aspects other than health.
Japan's recent decision regarding radioactive wastewater is an example. In March 2011, radiation leaked from Fukushima's nuclear power plant following the strongest earthquakes ever recorded in Japan.
Last month, the UN nuclear authority gave Japan permission to release the Fukushima Daiichi nuclear power plant's wastewater into the sea, which Japan did at the beginning of last week. The UN nuclear authority argued that the radiological impact of the waste would be "negligible."
As #Japan starts releasing treated water from #Fukushima Daiichi nuclear power plant today, IAEA @RafaelMGrossi explains in this video how our monitoring tool provides live data on the release.
📊 https://t.co/7Z4nzqk36R pic.twitter.com/ZSVMB9hDTm

— IAEA – International Atomic Energy Agency ⚛️ (@iaeaorg) August 24, 2023
Nonetheless, the socio-economic consequences are massive. China and South Korea banned seafood imports from Japan, fearing radioactive contamination after it was confirmed that Fukushima's wastewater contains tritium, a radioactive substance that cannot be filtered out by Japan's available technologies.
Many families living in the Japanese coastal area where the wastewater was released are witnessing a decrease in their seafood sales.
"Our family eats seafood from Fukushima all the time, but now I hear people say that they won't buy it," declared Haruko, one of the women selling seafood in the area. "[I]f people stop buying fish from Fukushima, I'm out of a job."
In a survey conducted by the Japanese newspaper The Asahi Shimbun, 41% of the people did not support Japan's wastewater discharge plan, in contrast to the 53% of people who supported it.
Sometimes, scientific evidence has to face reality. Although many scientists state that tritium, in small quantities, has no detrimental effects on people's health, people perceive it as a threat nonetheless.
Shouldn't sustainability be more than scientific evidence? Can the environmental benefits of a controversial choice really justify the socio-economic distress of many people?
---
Editor's Note: The opinions expressed here by the authors are their own, not those of Impakter.com — In the Featured Photo: Chernobyl power plant in Ukraine as seen from orbit. Featured Photo Credit: Alexander Gerst.