On Monday, the U.S. Securities and Exchange Commission, SEC will announce a highly anticipated plan that will force public trading companies to disclose their greenhouse gas emissions. 
The plan is part of a push from regulators and climate activists for the SEC to deliver a tough stance on how climate change correlates to factory-made emissions. One of climate activists' biggest priorities in the making of the plan is to target a carbon emission called scope 3 — which makes up most of public trading companies' pollution. 
As investors demand public companies to release potential risks of climate change, others are concerned climate-related government mandates could regulate too heavily and be invasive.  
Scope 3 emissions are detrimental to an effective new plan
There are three different types of emissions emitted from public trading companies: scope 1, 2 and 3 emissions. 
According to Plan A Academy, scope 1 emissions refer to a company's direct emissions, things produced by fuel, heating and vehicles. Scope 2 emissions are a company's indirect emissions that are owned by the company such as an energy purchase from a utility company. 
Scope 3 emissions are all of the emissions a company produces indirectly that they do not "own" nor are accounted for by scope 1 and 2 emissions.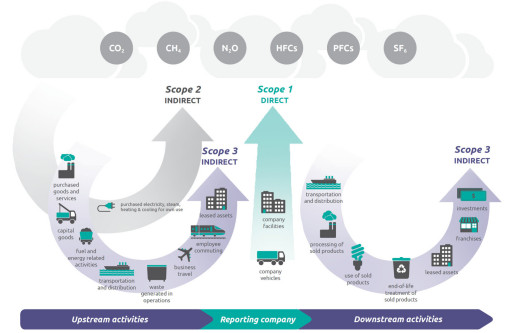 The EPA classified Scope 3 emissions into several unaccounted categories: emissions caused by waste, travel and fuel production. 
Similar to other greenhouse gas emissions, Scope 3 emissions damage the ozone layer and warm the atmosphere. 
Oil and gas companies are the biggest scope 3 polluters. In fact, scope 3 emissions account for 88% of the total emissions from the oil and gas sector.
Not only are these emissions bad for the environment, but no one actually knows how much of these scope 3 emissions oil and gas firms are emitting. 
The lack of rules regarding scope 3 emissions often leads companies to claim emissions in categories of scope 1 and 2 emissions and then deliberately leave out the majority of their emissions from scope 3 to evade backlash.
However, businesses contend that, besides fuel and electricity emissions, scope 3 emissions are hard to quantify. This is why many are concerned the new SEC plan could require companies to disclose these scope 3 emissions. 
What is the SEC's goal? 
Already big companies such as Apple disclose all their greenhouse gas emissions and their supplies, but the U.S. does not require companies to do this — therefore many companies conceal their scope 3 emissions. 
The SEC wants to establish clear standards public companies will have to follow — which will force them to take responsibility for unaccounted greenhouse gas emissions, and potentially scope 3 emissions.
Despite what one could think, investors are giving the biggest push for these new disclosure rules. Many investors are acutely concerned with how climate change might impact the businesses they fund.
The climate plan, supposed to be released on Monday by the SEC, is part of the Biden Administration's plan to combat global warming. 
After the White House's clean energy initiatives were shot down in Congress a few months ago, the SEC's decision could play a key role in the Biden Administration's pushback on rising temperatures. 
Democrats are eager for the SEC to finalize the rule this year.  
Once the SEC confirms the plan, a long revision process will occur before finalization. The rules will be proposed by all four commissioners, headed by Chair Gary Gensler. Afterward, all these rules will be subject to a public feedback period where climate activists and the general public can verify all necessary rules were included as well as businesses and others who oppose the ruling.  
The plan is expected to receive much backlash from businesses and others if scope 3 emissions are included
Several months prior, progress on the rule was halted after the agency Chair Gary Gensler and fellow democratic commissioners debated over whether to add an indirect emissions provision — scope 3 emissions. Already, many predict such an aggressive step by the agency will result in an onslaught of lawsuits.   
Many Republicans are also arguing the SEC's new plan is actually a push on climate rules to regulate global warming, which they claim is out of the SEC's jurisdiction. The SEC's main goal as a commission is to maintain and regulate fair and orderly markets. 
The Republicans, led by Representative Bill Huizenga of Michigan wrote, the rule "is not truly an attempt to provide financially material information to investors. The real intent is to fight climate change." 
Alongside opposition from Republicans, several businesses and states have even announced their intent to oppose and sue the SEC's plan before the announcement has even come out.  
As companies continue to evade responsibility for greenhouse emission and their impact on the environment — most recently public relations firms role in greenwashing oil and gas companies — many climate activists agree it is time for these public companies to finally face the damage they dealt. 
Hopefully, the SEC's plan will survive the onslaught of opposition from businesses and others who oppose the need for a clean environment. One thing is certain: To do nothing and continue with business-as-usual will result in monumental and unstoppable increases in the amount of U.S. emissions.
---
Editor's Note: The opinions expressed here by Impakter.com columnists are their own, not those of Impakter.com — In the Featured Photo: Factory on August 23, 2009. Source: Simoluu, Flickr.