Some are born into their profession, others find it along the way, and in very rare cases it finds you when you least expect it. Jeremy Hardy is an example of the latter, destiny led him back to his origins, a family company: Neo-Lupus.
Taking the initiative on animal care, Jeremy has developed a range of animal health-care products from the knowledge which has descended and permeated throughout a family lasting decades and surviving wars.
I spoke to Jeremy to find out more on the company's history and his thoughts for the future.
Q: How are you sustainable as a company? What is your company's mission?
JH: Our company is sustainable because we do not use excessive packaging and only use recycled or natural materials. We have a zero impact on the planet and our production is energetically compensated.
Our offices are set in the Darwin Ecosystem in Bordeaux, South West France. The Darwin Ecosystem is energetically independent and welcomes companies that are ecologically responsible or that have a positive impact for our planet.
The aim of our company is to put forward natural products for animals, for their hygiene as well as their health needs. Our products are based on 100-years-old family formulas, based on plants.
We now want to become the reference in terms of natural care for animals, and make people aware that animals can be treated and looked after with ethical and natural products, reconciling business and environmental responsibility.
In the Photo: Jeremy Hardy, CEO of Neo-Lupus Photo Credit: Neo-Lupus
Q: What is the story of Neo Lupus?
JH: There are 2 steps in Neo Lupus' history. It was first created by the zoologist Armand Moriniere in the early 20th century.  He was farming different types of animals in the French Basque country. Facing various challenges for their care and health and mindful that he wanted to look after them naturally. He developed a range of products with his herbalist knowledge. Neo Lupus was born. Neo Lupus (New wolf translated from Latin), was the name chosen by Armand after his favorite dog, an Alsatian whose breed at the time was called "new wolves"
On his return after the Second World War, his son Francis took over the company. Francis made it into a family business and he developed the company and commercialized its products to the public up to its peak until his death in the early 90's. Unfortunately the company died with him.
Destiny meant that I found online a booklet written by my great grandfather Armand, explaining Neo-Lupus' origins and how to raise puppies properly. From then on, I have made it my life's mission to re-start the family business. I wanted to convey my ancestors' message by redeveloping the products in their memory, backed by my own 10 year experience working in the pharmaceutical field that has helped me overcome various obstacles.
Q: What makes your products special?
JH: Our products are special because they are unique and are issued from complex formulas using up to 16 different plants. The specific dosage of each plant allows a unique interaction and offers a remarkable effectiveness.
When I rediscovered and redeveloped Neo Lupus "version 2", I was really pleased with the market feedback on the use of the products, with no negative comments. People were still looking for the products, some 20 years after the brutal commercial interruption!
My great grandfather and grandfathers' vast experiences have enabled me to recreate the same unique products, both effective and ethical. It is amazing to think that 100 years ago, Neo Lupus was created by these visionaries, as we see the surge and interest now for natural and ethical products.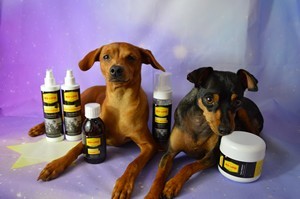 In the Photo: Neo-Lupus glam models with products Photo Credit: Neo-Lupus
Q: How has this company transformed over the years? What remained the same? In what ways is it continuing to improve its natural products?
JH: When developing the new range, I made sure to preserve the efficacy of the products whilst offering a modern approach in terms of Marketing and Communication.
We indeed live in a faster world where we have instant access to products and information but we want to make sure to keep our customer friendly approach and stay close to our clients.
We also put forward the company ethos and highlight the fact that our products are natural. Our commitment to our clients remains the same as it was 100 years ago, to deliver natural, quality products made using plants.
Thanks to our research and development team, we have developed our range of products using our market research. For example, we have just started to sell a new ointment for joint and muscle pains. We have also worked on a new anti-parasite spray that will come out early 2018 and are working on an oil enriched in vitamins: all these new products are based on the existing exceptional, already proven formulas.
---
Related article: "ANIMALS REMASTERED" by Silvia Di Paolo
---
Q: Any specific goals for the future?
JH: Besides developing new products, we intend to increase our presence in France by being in partnership with main trades and businesses. We also intend to grow in new markets such as Canada, Switzerland and Belgium.
We are looking for collaborators to develop our products in the US and also in Asia where animal products are established and where we see a massive potential for our products. We are therefore looking for investors in these specific markets.
At the same time, we have created a foundation whose goal is to produce educational documentaries on animal protection and on endangered species. These documentaries will be shown in schools and to the general public so youngsters learn in a playful manner.
Pio the wolf, Neo Lupus and the foundation's mascot, will raise awareness in future on various other animal-related issues.
---
EDITORS NOTE: The opinions expressed here by Impakter.com columnists are their own, not those of Impakter.com