Editor's Note: This piece is written by Clare Kitchen, global development writer and editor and is part of the Deliver2030.Org SDG Series . Edited for Impakter readers.  MY World  (full pdf document) was a key part in the genesis of Agenda 2030 adopted by the United Nations in September 2015
Why do it? MY World grew out of a realisation that the Millennium Development Goals (MDGs) were set without widespread political or popular support, or knowledge. As a result, they took valuable years to establish, wasting time and effort promoting a programme that, once running, would become extremely successful in tackling the inequalities that still plague our world.
Keen to avoid making this same mistake with the new agenda, Agenda 2030 and the Sustainable Development Goals, that was due to take over from the MDGs in 2015, policy makers began discussing how to make the setting of a new goals a transparent and inclusive process.
Much of this discussion, which began in 2011, focussed on including as many experts as possible. But there were others who were thinking about how to include citizens too.
There was a clear acknowledgment that we wanted to target young people and make sure their voices were heard. There was also a clear acknowledgement that we wanted to target everyone – because it was a universal agenda – and we wanted to use what we did not have in 2000 which was social media and the platforms which allow us to contact people across borders without having to travel – except through cyberspace.
– Amina Mohammed, Special Advisor to the SG on Post-2015
MY World initially came about through the collaboration of three people working for three organisations: Paul Ladd at the United Nations Development Programme (UNDP), Claire Melamed at the Overseas Development Institute (ODI), a UK think tank, and Corinne Woods at the United Nations Millennium Campaign (UNMC).
These three key players from three key institutions – UNDP, ODI and UNMC – got together to design and implement an initiative which would ask as many people as possible: "What is the future you want?"
I've always questioned how organisations representing citizen views knew what they were. I've always asked these groups how they actually know what citizens want, what they desire. I wanted this campaign to be about helping people set the priorities, so we really knew that this is what the people wanted.
– Corinne Woods, UNMC
How did it begin?
The idea for MY World came out of a meeting in a noodle bar in Tokyo, Japan, in March 2012 between Paul Ladd and Claire Melamed. This became a two-page concept note 'iGoal' – a survey which would be hosted on-line but could also use mobile technology. It would ask people to choose 8 out of 24 priorities for a better life which would then present them with their own pictorial "Goal DNA".
I remember sitting in a meeting discussing the new agenda and me sending, or Paul sending me, a text (I can't remember which), saying: 'What would it feel like to have one million people also having had this conversation?' As you can see, our ambitions were quite small then!
– Claire Melamed, ODI
Participants would be asked to provide their email address, gender, age and country in which they live, allowing the data to be disaggregated and reveal valuable insights into who wanted what.
This first concept note was redrafted a couple of times before being shared with partners but it is remarkable how close it is to the finished product.
Early supporters
The revised concept note was then sent to Olav Kjorven, director for development policy at UNDP, who was already looking for a way to take what was by now being called the 'global conversation' 'viral'.
We needed a global conversation, we needed to go viral and get as many people as possible to participate. Not just because it's important in principle, not just because it's the right thing to do, but because we can. In the past we didn't have the means or the technology, the ways to make it happen, but now we do.
– Olav Kjorven, UNDP
He immediately signalled his support and provided the funding needed to produce a mock-up of the website and take the idea forward.
The concept was also presented to Amina Mohammed, Secretary General Ban Ki-moon's special advisor on Post-2015 Development Planning, and again got approval – a seminal moment. These two supporters gave the project the backing it needed to be taken to the next level.
People should be asked about what they want in life, what they expect, and we thought that perhaps if we could find a way to allow them to drive the priorities that the Member States would draw from, then when they take the agenda down to their countries it would be easier to implement and own.
– Amina Mohammed, Special Advisor to the SG
The concept note was then shared with as many partners as possible – colleagues, civil society, Non Governmental Organizations (NGOs) – who were asked to comment on the options and the concept.
As the policy was being refined and work done to ensure the wording and even color schemes would be culturally acceptable to citizens across the globe, the search was also on for collaborators and, crucially, funding.
Funding
The UK's Prime Minister David Cameron had been appointed the co-chair of the SG's High Level Panel (HLP) on the Post-2015 Development Agenda which had been given nine months to prepare a report.
Because of their prime minister's involvement, the UK Government's Department of International Development (DFID) was looking to fund a project which would bolster this work – and they had let it be known they favoured one which used new technology and reached out to the marginalised.
The United Nations Millennium Campaign (UNMC) made contact with the One Campaign and the Omidyar Foundation, both based in London, who were both looking at using online and mobile technologies to bring mass professional and citizen engagement into the new agenda.
These two organisations joined UNMC, UNDP and ODI in a bid for funding from DFID. After an initial refusal, One Campaign and the Omidyar Foundation withdrew from the bid, and after another six months and 14 versions of the same proposal, DFID awarded a grant of $1.8m.
They really tore us apart – in a good way – and it really challenged us to do some smart thinking about our proposal. It was absolutely 100 per cent useful.
– Anand Kantaria, UNMC, on DFID's funding process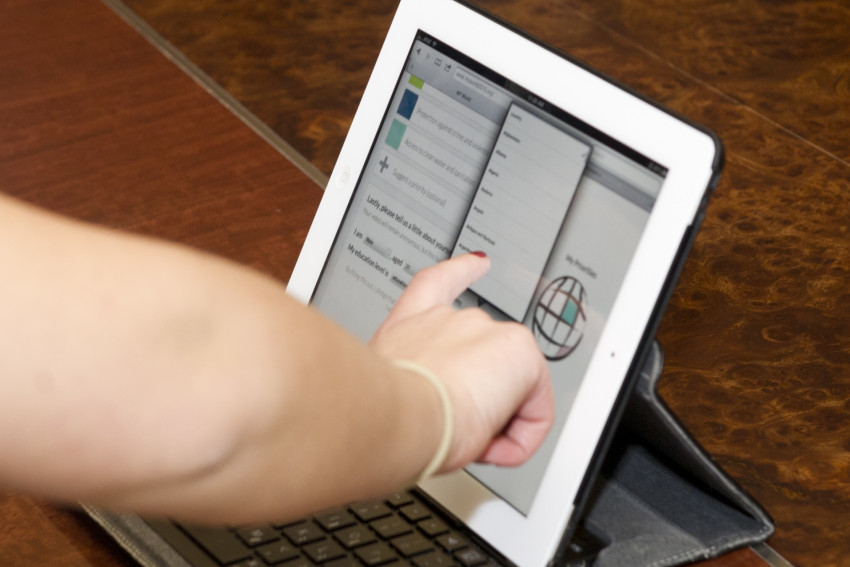 In the Photo: Secretary-General Ban Ki-moon met with volunteers of "My World", a UN-led global survey of people's priorities for a better world.  Photo Credit: UN Photo/Eskinder Debebe
Political backing
Key to MY World's success was that it was embedded in the political process from the beginning. While it was still in the design stage, the UNMC was talking to Ms Mohammed and others and working to ensure it could be presented to the High Level Panel  (HLP) at their very first meeting in December 2012.
We stuck like limpets to the political process.
– Corinne Woods, UNMC 
If the politicians weren't listening, the survey would have no meaning. So the first months focussed on developing a tight, statistically-sound survey which was driven by good policy, had realistic funding and a plausible method of implementation.
It took some fancy footwork and some delicate balancing – it wasn't like we needed a resolution but we didn't want anything to stop us in our tracks – we wanted to make sure we were relevant and useful.
– Olav Kjorven, UNDP
The first major political victory was in December 2012 when the team presented MY World to the HLP and won its commitment to listen to the survey's results. Later, UNMC would underscore this political traction by securing a commitment from the Open Working Group (OWG) started by Colombia's Paula Caballero, appointed after Rio +20 and also reporting to the Secretary General, to consider the MY World data.
The OWG received inputs from MY World at each of its 13 sessions. Ms Mohammed's support meant that the Secretary General himself also put his backing behind MY World, directly and indirectly supporting the survey throughout its life.
Changes made through consultation
By now, after consultation, the priorities had been whittled down to 16 after everyone agreed 24 were too many. There had been much debate on what the priorities should be, including one person who argued that all the priorities were human rights and should not have to be ranked in order of preference.
One of the commentators from the South really didn't like the priorities and compared it to having to choose between one of your children – these were all fundamental human rights and it was wrong within a closed survey to ask people to choose.
– Paul Ladd, UNDP.
However it was agreed that goals had to be chosen but that they could be cut down to 16. These were then cross-referenced with a U-Report carried out on UNMC's behalf by Unicef in Uganda which asked 17,000 young people what would make their world better. This open survey indicated a 96% correlation with the original list of priorities.
Voters would now be asked to choose 6 from 16 priorities and IPSOS MORI were engaged to advise on statistical analysis.
In another important change to the initial concept, it was decided that voters should not be asked for their email addresses. The exercise should be about collecting data, not contact details which could then become an 'asset' in their own right. It was essential no one organisation had 'ownership' of MY World or its data if it were to be as inclusive and transparent as was intended. UNMC was also insistent that the survey should also be collected off-line – by old fashioned paper ballot. This was to ensure the digital divide could not exclude people from voting.
I was adamant I wanted scouts on bikes – reaching people without mobile phones and internet access – making sure we got a truly representative vote.
– Corinne Woods, UNMC
Online development
The first beta website of MY World went live in December 2012. This was designed by Seed Scientific, in collaboration with Mitchell Toomey, senior advisor on knowledge, innovation and capacity, at UNDP. The full website was launched later in January 2013.
The project was made up of two main strands: making a website which was user friendly for voters but which also recorded and displayed their vote in real time.
The initial design needed to take into account a number of complexities – data collection from a number of different sources including mobile phone and paper ballots, connectivity with different operating systems and with different network speeds across the world, real-time data display, and analytics which could work for research as well as advocacy.
It was a work in progress and was updated and improved throughout the project.
Improvements included translating it into 17 languages (this was done by UN country offices) and designing a widget which allowed it to be embedded in partners' websites so their members and visitors could take the survey easily. But like the initial concept note, the website today closely resembles the initial design. A great deal of work went into the data visualisation which allows real-time analysis of the results. This really set MY World apart from previous UN data collecting programs and ensured transparency and accountability.
One of our goals was to present the data in a way which would make it appealing enough to incentivise partners. We wanted to be able to give them a way to ignore all the other MY World votes and just concentrate on their own votes. In the best possible market way they had a selfish interest in having this data because it gave them an insight into their own communities.
– Mitchell Toomey, UNDP.
As well as designing the website and the analytic platform, Seed Scientific carried out a number of research projects pulling out narratives from the voting patterns. Research included looking at patterns such as country clusters – grouping countries which may not have geo-political or economic similarities but had populations who voted for the same priorities – to seeing how the votes from countries which make up the membership of bodies such as the UN or the Security Council, compare with the global vote.
We also started to look at things like the memberships of groups like the Security Council or the UN and see how their membership as an aggregate differed from the rest of the world. So if you were imagining the scenario of a G5 meeting you could look at the question of how well do those countries represent the views of the whole world? Where is there convergence and where is there divergence?
– Adam Bly, Seed Scientific
---
Related article: "A SHORT HISTORY OF THE SDGS" 
---
Offline development
With one billion people living in poverty, there are so many we could not reach via the Internet so we engaged with many young people who did have connection and we asked them to go out and help those not as fortunate as themselves. There were scouts and girl guides who went out to the remotest of places with paper and pencil and asked other young people for their views. That was a huge task and gave us amazing feedback.
– Amina Mohammed, Special Advisor to the SG
The offline strategy was largely carried out by partners. It started slowly with the MY World Plus surveys in Liberia but then gathered pace with a huge effort in Nigeria when the Nigerian National Youth Corps gathered 150,000 votes from 77 districts in the country. MY World Plus was developed by UNMC deputy director Sering Falu Njie who, as a statistician, wanted to reinforce the MY World findings with a series of scientifically designed surveys.
To this end, he sought out partners who were already carrying out such surveys, and piggy-backed on their outreach or persuaded others, such as the Nigerian Government, to use their resources – attracting them with the wealth of regional data that MY World provides. MY World Plus led to eight country surveys in Africa, realising both a huge vote from the region but also giving great statistical credibility to the off-line vote.
What will really stick with me about MY World was the fact that people really appreciated us taking their ideas. Even after you've done the survey, they take you aside and talk about various issues. After this, I will keep believing that getting voices of the people in whatever you are doing is really key.
– Sering Falu Njie, UNMC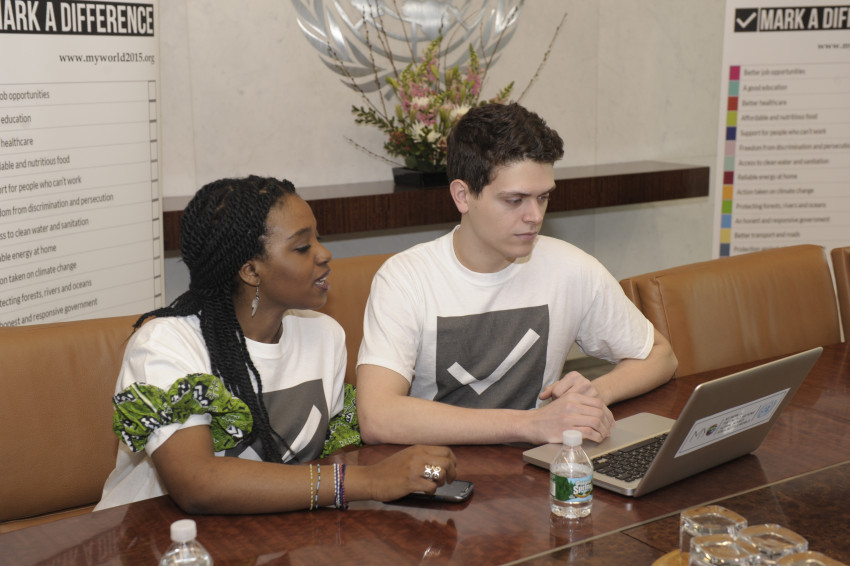 In the Photo: MY World Volunteers. working through the ways of voting. Photo Credit: UN Photo/Eskinder Debebe
Garnering the Youth Vote
Another key contributor to offline voting was the youth vote. UNMC expert advisor on children and youth Ravi Karkara reached out to youth forums and organisations all over the world to gain their support.
Global youth advisors – volunteers – were appointed across the world whose job was to reach out to youth groups in their countries and encourage them to get children and young people to take part in a three-pronged strategy:
vote

encourage their peers to vote

encourage their elders to vote.
These youth advisors ended up mobilising hundreds of thousands of votes.
It has been an amazing experience for me. Everybody's voice is being heard and it has been fascinating being involved in this process. It wasn't always easy to convince people to share their voices – most had never even heard of the MDGs – but I told them if they did not, they could not complain if the new goals were not what they wanted.
– Divine Ntiokam, Global Youth Advocate, Cameroon
Another big boost to MY World was when Sri Lanka, which hosted the World Conference on Youth in January 2014, signed an MOU with UNMC pledging one million votes.
This became a watershed moment – it motivated Mexico because I invited the Mexico Youth Institute to come to Colombo and told them: 'This is what they've done here in Sri Lanka – you need to replicate this. "If you are able to replicate this you will see something huge coming out of this process. The only incentive I had was to quantify the voices of young people. I couldn't do more than that.
– Ravi Karkara, UNMC
This commitment worked as a powerful incentive to other countries and youth organisations and was closely followed by similar commitments from Mexico City and Pakistan. Another very successful form of partnerships was with City Mayors.
For example, the mayor of Mexico really got on board and promised us 1 million votes alone. Politically MY World was a good message for mayors, they have budgets and the wherewithal to reach out and there is impetus.
– Corinne Woods, UNMC

In the Photo: Secretary-General Ban Ki-moon meets MY World Volunteers. SG being shown the ways of voting, Photo Credit: UN Photo/Eskinder Debebe
Mobile technology development – the Use of SMS and Apps
The initial mobile technology campaign was run by the Worldwide Web Foundation. The first two campaigns were in India and Rwanda and used toll-free call-in numbers. In India, an advertising campaign fronted by Bollywood actress and Unicef goodwill ambassador Priyanka Chopra directed callers to the number. In Rwanda, voters were directed to the number via SMS. Both campaigns were expensive and did not raise the number of votes expected.
A new approach was then tried by a company called GeoPoll who devised a way to send the survey exclusively by SMS. Once the first SMS was accepted, the recipient was asked to choose one priority from four randomly selected priorities in a series of four messages. IPSOS Mori then devised an algorithm which predicted the last two priorities. They polled 20 countries in all and pulled in more than 130,000 votes.
A second main player in the mobile strategy were BiNu who use an app which allows phones with less bandwidth to receive condensed information. They pulled in nearly 110,000 votes.
The mobile phone strategy suffered from two main hurdles. One is access to owners. Every country has different providers and networks who were not necessarily inclined to take part in a poll. Another was the complexity of the survey. Asking voters to choose four of 16 priorities via text message proved too long-winded a process to convert into a meaningful number of votes.
Without a dedicated audience, reaching people by mobile is a very big challenge. You have to engage people and then persuade them to vote – it's two steps not just one.
– Mitchell Toomey, UNDP
Marketing and social media strategy: Mark A Difference
In March 2013, Secretary General Ban Ki-moon launched the MY World advertising campaign "Mark A Difference" and also recorded a YouTube video urging people to vote.
Mark A Difference was supported by Unicef who asked their goodwill ambassadors to lend their pictures to the campaign, resulting in celebrities such as Mia Farrow and Aamir Khan supporting MY World.
The $50,000 campaign was kept simple, just asking people to vote. It also included multi-coloured pdfs of the priorities which were popular at events. MY World also used Facebook and Twitter to spread the message and a regular blog appeared on the website.
The famous advertising firm MC Saatchi (working pro-bono for UNMC) came up with the idea of using a replica of the SG's podium which could travel around the world and be used as a focal point for voting.
The idea was that the podium was allowing the people to speak, rather than the UN speaking to the people. This podium, signed by the SG, travelled the world promoting MY World.
Special events and initiatives: Week of Action, MY World Exhibition, MY World Partner Recognition Awards and the Humans of MY World
In December 2013, the UN Foundation's Global Entrepreneur's Council (GEC) adopted MY World as its project for 2014, pledging to bring in another one million votes.
Their support, which came with desperately needed financial backing, led to a Global Week of Action in April 2014. Toolkits in four languages were sent to partners asking them to dedicate the week to encouraging their communities to vote online, donate their social media profile to a profile-raising Thunderclap and setting up voting booths in community centres, schools and publicly-used spaces to reach those without online or mobile capability. Those who voted on-line were rewarded with a personalised video which showed the 'world you want'.
To coincide with the General Assembly of September 2013, an exhibition of MY World, its aim, work and results, was put on at Unicef House, New York. It attracted visitors from Nobel Economic Prize winner Muhammad Yunus to disabled children from MY World partner organisation NineisMine. It was open to the public and ran for one month.
A high point for me was the Million Voices paper at the General Assembly in 2013 and the exhibition. I remember someone from DfID saying to me that everyone was talking about MY World, it was being mentioned all the time, and I felt really proud of what we had achieved.
– Corinne Woods, UNMC
As a way of acknowledging the many partners and volunteers who have contributed to the survey's success, MY World also held a MY World Awards Ceremony in 2013 and 2014. There were 10 main awards from 'outstanding contribution' to 'innovation'.
The first awards ceremony was hosted by Nelson Mandela's daughter Zoleka whose organisation Make Roads Safe Campaign is a MY World partner. Humans of MY World was another innovative side-event to MY World.
Two volunteers William Moore and Sage Martin took off across the world, asking for votes, taking photographs and recording stories – bringing a 'human' face to the data. Their 6-month journey across 15 countries and 5 continents resulted in a photo exhibition in New York to coincide with the General Assembly week in September 2014.
Video Credit: MY World 2015 
What do the votes tell us?
It was amazing to see the feedback, that across the world, the top issues remain consistent: education, health, jobs and an honest and responsive government. It was very interesting for us because one of the most contentious issues on the floor of the Open Working Group as we shaped the 17 goals was the rule of law and justice.
– Amina Mohammed, Special Advisor to the SG
From the beginning, the number one priority globally for men and women – and across all age groups – was education. This is followed by better healthcare, jobs, an honest and responsive government, protection from crime and violence and access to good food and clean water and sanitation.
The consensus was strong – negating the view of some of MY World's initial opponents who said a survey of this size would throw up too many conflicting opinions.
It turns out it's exactly the opposite, if you ask a thousand experts or special interest groups or organizations, that's when you get a thousand views, but when you ask actual people you get the same seven to nine issues over and over again. It's a striking thing that tells us people all over the world have the same ideas and priorities about what is the most important things in life. In some ways it's surprising – but it's also a very powerful message. We got this result and it compares very well with the 17 goals the Open Working Group have come up with – it turns out 7 million people can be more focused than 193 member states.
– Olav Kjorven, UNDP
Turning Points and Successes
There were a number of major turning points for MY World worth noting: The political support given by Olav Kjorven and Amina Mohammed at the outset and later by the High Level Panel and Open Working Group [Editor's note: these are the two UN groups that worked towards the formulation of Agenda 2030 and the Sustainable Development Goals] .
Political traction was what set MY World apart, both the HLP AND the OWG were listening to our data, which made it much easier to get our partners on board because we could tell them we already had a line into these political processes. Work with us and we will make sure your members' voices are listened to.
– Anand Kantaria UNMC  
Another key factor was the initial seed funding from UNDP ($500,000) and the main funding from DFID ($1.6m). Without these two initial funders, MY World would never have got off the ground.
Other important contributing factors:  
The commitment from the Sri Lankan government to get 1m votes. This pledge incentivised other governments to match Sri Lanka's initiative;  

The 500,000 (May 2013), 1m (September 2013) and 5m (September 2014) vote marks galvanised support and re-energised the campaign;

A report: "A Million Voices: the World We Want" was published to coincide with the General Assembly week in September 2013.

Ensuring MY World was 'owned' by none.
Although it flies the UN banner, MY World has always remained neutral. Even the name has been open to change and organisations have been able to use the survey without even calling it "MY World". The only stipulation has been that organisations ask the same questions and return the answers to MY World. In this way, all organisations felt they were able to take part.
I think we all played our own important parts in the whole process because really this is something that has never been done before. We knew this would be extraordinary because never before have we actually had people's voices tracked and put directly into an intergovernmental process. That's the biggest thing about this – we managed to create a new case law in the UN,
– Olav Kjorven, UNDP  
A Global Reach
The MY World survey has reached 194 different countries and partnered with more than 700 organisations, not to mention the thousands of youth ambassadors who have reached out to their own communities.
It's had an astonishing global reach which has been one of the really satisfying things about it. Very often these so-called global campaigns are not really global, just a couple of big organizations in a few countries, but this really has been undeniably global.
– Claire Melamed, ODI
Things to do differently/ lessons learned  
At the start of the MY World journey it had been hoped that the major advances made in Internet and mobile phone technology since the setting of the MDGs would make 'reaching the people' so much easier.
The experience of MY World is that this is still a simplistic view. The results of MY World overwhelming show that it is still old-fashioned community values which have encouraged people to exercise their right to vote.
The volunteers who have gone out into communities and explained the purpose and the goal of the survey face-to-face have been the ones to bring in the most votes. Simply posting the survey on-line on a website or a Facebook page does not attract large volumes of voters.
A good case in point is Coca Cola who have 90 million Facebook fans but whose support for MY World only translated into 17,000 votes.
In fact this is one of the few areas I'd probably think twice again if I were to do this again. We spent a lot of time and effort talking to people heading up large organizations who you thought was the right person to deliver votes but actually we soon realized we needed to get to national chapters, not headquarters; it was the people on the ground who could mobilize votes, not those sitting in the offices.
– Corinne Woods, UNMC
The mobile phone results have been particularly disappointing, given the large footprint mobile phones have in the developing world, it had been hoped they could be utilised to reach the most marginalised. This has been true in a small way but has not had the success that had been envisioned.  
Given the relative success of off-line voting, one suggestion made has been to appoint a global youth ambassador in every country in the world at the beginning of a survey and provide them with a small amount of seed money to cover office expenses, communications and travel.  
The sheer volume of off-line voting led to huge challenges in data input. Many partners were enthusiastic about going out into the communities and helping people vote, but often did not realise they would then have to input each survey into the website for those votes to matter. This, on occasion, led to huge backlogs of data.
A lot of partners did not have the resources or capacity – you need a basic knowledge of Excel worksheets and data cleaning – so you can filter and see any problems – this capacity is needed. Where we had partners without these resources and capacity, it became a problem.
– Sering Falu Njie, UNMC
The MY World Legacy: How to Go Straight to the People
The legacy MY World gave the UN the opportunity to operate at a local level for the first time – bypassing government and going straight to the people.
The survey changed the way the country offices operated on the ground – including in China:
'It's created a different political dynamic at the local level, particularly for our UN country teams. The UNDP, for example, is an intergovernmental agency – we work with governments and then to a lesser degree with civil society and business. But for the first time the UN had a reason to bypass governments and go directly to people and ask them what they want. In fact I was really surprised that more governments didn't question this and even complain.'

The fact that we could get this off the ground in China is really quite stunning. 'So it created a different political dynamic for UN country teams – a new space for them to show their connection with people. It allowed us to reiterate how the UN was reinventing itself and stressing the first line of its charter: We the Peoples. There's been such a high water mark on the consultative process this time – for all its faults, its failures, for all its blemishes – it's really set a high bar that other multilateral processes must now follow and MY World within that, modestly, has made a contribution, clearly because it's been the driver of most of the 'people engagement' whether it's been online, offline, or through the mobile methodology.'
– Paul Ladd, UNDP
No More Dark Corridors Filled with Experts and Politicians
MY World has shown that it is possible to survey people en masse. It is, we believe, the largest ever public consultation exercise reaching millions of citizens all over the world, from the most privileged, to the most deprived.
I think in the future it is going to be different in that we are going to have to keep on reaching out to people. I don't think we can do these dark corridors just filled with experts anymore.
– Amina Mohammed, special advisor to the SG
It has given instantaneous, real-time read-outs of what people want and where, making it a valuable tool both globally and regionally. Having been placed at the centre of the political process designing the next development agenda, there is now no reason for leaders to speculate on what citizens want.
MY World tells them this.
It's been able to cut across some of the G77 critiques of the imposition of Western-style democratic governance. So blocks like the EU have been using the honest and responsive government numbers in their official statements in the intergovernmental negotiating space and, indirectly (attribution is difficult) but I think it's really underpinned the inclusion of Goal 16 in the Open Working Group proposal which is on peaceful and inclusive societies – so it's changed the political dynamic around things like governance
– Paul Ladd, UNDP
It has had two longer term and systemic impacts: its shown that it is possible to ask people's opinions at scale. You don't have to rely on a small focus group for consultation, it's possible for institutions to reach out to people directly and find out what they think. That to me is absolutely essential and critical. And it shows that big institutions, even huge ones like the UN, can do that and that it can be positive. There's nothing to be frightened of. It's a good thing.
– Claire Melamed, ODI
I feel that MY World has reinvented the way the UN talks to people. It represents a new openness that is really true to the UN mandate: 'We, the People'.
– Corinne Woods, UNMC
---
Recommended reading: "MILLENNIALS AND THE SDGS"
---
EDITOR'S NOTE: THE OPINIONS EXPRESSED HERE BY IMPAKTER.COM COLUMNISTS ARE THEIR OWN, NOT THOSE OF IMPAKTER.COM. FEATURE PHOTO CREDIT: E DEBEBE / UN PHOTO