The war in Ukraine has brought increased public attention to the negative impacts that armed conflicts and military emissions can have on the environment. In its first 12 months, the Ukraine war has been estimated to emit 120 million tCO2e. That amounts to the annual output of Singapore, Switzerland and Syria combined.
The Ukraine war is just one example, however, of how militaries and wars contribute to climate change. Further, like with many other conflicts, the full extent of the emissions of the conflict can only really be evaluated after the conflict is over. 
In fact, a new report published in November 2022 by the Conflict and Environment Observatory found that all the militaries in the world combined are estimated to be responsible for 5.5% of global greenhouse gas emissions, and if they were a country, they would rank fourth after India and ahead of Russia (at least at the time of the report's publication):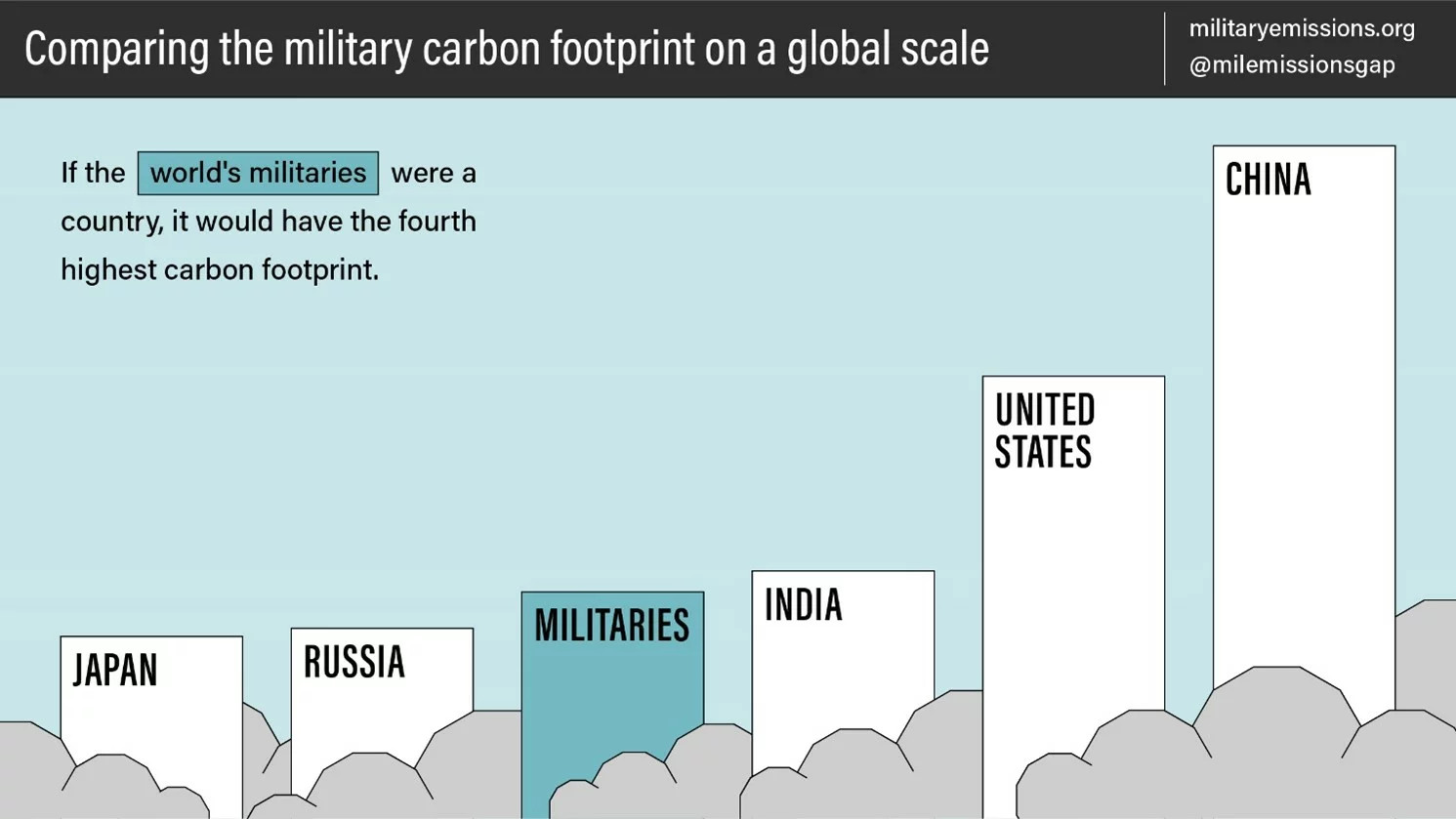 Comparing the global carbon footprint of military operations to another sector that operates around the world, we find that it is about twice that of the maritime sector which stands at 2.8%. 
Militaries generate both direct and indirect emissions. Direct military emissions result from activities like using vehicles and jets during training or conflicts, while indirect military emissions stem from the production and transportation of military machinery, as well as the third-party carbon footprints associated with military operations.
Armed forces not only consume large amounts of fossil fuel, they also are entangled in highly complex supply chains. 
However, while military spending is increasing globally, there is a glaring omission when it comes to accounting for the military's emissions in countries' reduction goals. 
Military Exemption from Climate Agreements
The exemption under climate laws for the military to report on their carbon footprint can be traced back to the Kyoto Protocol – one of the world's first climate deals.
The Kyoto Protocol, adopted in 1997, was an international treaty aiming to address global climate change by setting binding emission reduction targets for developed countries. 
The agreement included a military emission exemption, excluding military emissions from targets and reporting requirements due to national security concerns.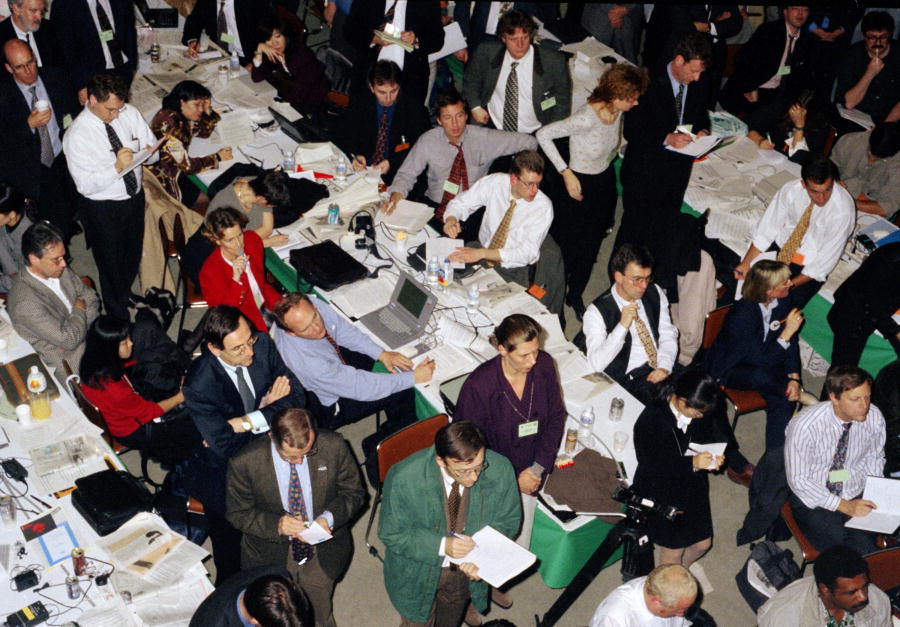 In the 2015 Paris Agreement, the military emission reporting exemption was replaced with a voluntary option for militaries to account for their CO2 offset. 
Some militaries have reported on their emission output. Unfortunately, though, many of the reports have significant gaps. As the Green European Journal recently put it, military emissions are a black box.
For example, take the case of Germany, a country known for its cautious attitude to the military. In 2018, the German Bundeswehr reported it had emitted an estimated 0.75 MtCO2e. However, a report commissioned by the Left group in the European Parliament GUE/NGL and conducted by the Scientists for Global Responsibility (SGR), Conflict and Environment Observatory (CEOBS) estimated the number to be several multiples, standing at 4.53 MtCO2e.
Here are some other examples of countries' militaries that have failed to correctly report on their carbon emissions:
United States:

The US Department of Defense (DOD) has been criticised for its lack of transparency on military emissions. In 2018, the DOD reported that its emissions were 41.2 million metric tons of CO2e. However, a study by the

Stockholm International Peace Research Institute (SIPRI

) estimated that the DOD's emissions were actually

55.4

million metric tons of CO2e.

United Kingdom:

The UK Ministry of Defence (MOD) has also been criticised for its lack of transparency on military emissions. In 2019, the MOD

reported

that its emissions were 2.2 million metric tons of CO2e. However, a

study

by the SGR estimated that the MOD's emissions were actually 11.3 million metric tons of CO2e.
France: Criticism has been directed towards the French Ministry of Defence (MoD) for its insufficient disclosure of military emissions.

 In 2019, the MoD

reported

that its emissions were 1.8 million metric tons of CO2e. However, a study by the SGR

estimated

that the MoD's emissions were actually 5.7 million metric tons of CO2e. 
Why are the military not reporting their carbon footprint?
One of the main reasons why military emission reporting is not compulsory is the fear it could harm national security by showcasing sensitive information. 
As Markus Ruelke from the German Defence Ministry environmental protection unit said: "We would not want to let everybody know how much fuel we use in these missions – how far we fly, how far we drive, and what our exercise patterns are." 
This however sidesteps the issue. Reporting one's carbon footprint need not give away this kind of granular detail and it can also be done later in time, after the fact and once military operations are over.
As a result, the lack of proper reporting requirements makes it challenging to assess the true extent of the military's carbon footprint and address the issue effectively. 
Moreover, to ensure countries meet their climate goals with transparency, accurate data on military emissions is essential.
As Dr Stuart Parkinson, SGR's executive director said: "Military carbon emissions matter because they are a potentially large loophole in the Paris targets – especially for the high military spenders like the US, China, UK, Russia, India, Saudi Arabia and France." (bolding added) 
What is Done to Reduce the Military Greenhouse Gas Emissions?
Despite the current lack of comprehensive reporting, there is a growing trend of militaries worldwide committing to a more environmentally sustainable future.
For instance, the Swedish Armed Forces have taken proactive steps towards energy conservation, waste recycling, environmental considerations in missions, promoting sustainable consumption, and minimising ground contamination to demonstrate their commitment to environmental stewardship.
Moreover, numerous militaries worldwide have committed to achieving net-zero emissions in the future, with Switzerland aiming for climate neutrality by 2050 and Germany targeting to achieve it by 2045.
The US military has also set ambitious targets to reduce the Army's emissions by 50% by 2030, transition all noncombat vehicles to electric power by 2035, and develop electric combat vehicles by 2050.
The lack of reporting and accountability for military emissions poses a significant challenge for achieving the Paris climate goals, and environmentalists are urging the UN to lift military exemptions and include all military emissions in comprehensive global carbon accounting

— Jon Naka (@GDjonnaka) July 16, 2023
 A 2019 report released by Durham and Lancaster University found that the US military was "one of the largest climate polluters in history, consuming more liquid fuels and emitting more CO2e (carbon-dioxide equivalent) than most countries." This is of course in line with the CEOBS 2022 findings mentioned above, ranking the US in second place, right after China.   
Last year, for the first time, the Pentagon delegation, comprising US Army and Navy representatives, attended the COP27 climate summit in Egypt, a significant move by Washington to engage in global climate discussions – especially in light of the US military's carbon footprint.
---
---
However, while these pledges and apparent goodwill gestures may seem promising, one must approach them cautiously. 
For example, as pointed out by the SGR, the UK military's apparent progress towards exceeding emission targets is primarily due to the targets being weak and undemanding. In fact, they report that the targets for reducing overall greenhouse gases from military bases are so weak that they could be met even if the Ministry of Defense takes no action to reduce emissions until 2025.
Moreover, NATO's former Environment and Smart Energy Officer Susanne Michaelis said in 2019: "NATO's focus is not predominantly on the environmental impact of military activities, but rather on a more efficient use of energy. Put differently, it is about military effectiveness." (bolding added)
Referring to this subject, Dr Stuart Parkinson warned: "The title of a recent report by the US Defense Science Board gives away the real intention of such programmes – More Fight, Less Fuel. If the motivation is mainly to fight war more efficiently, the rationale of these programmes is dangerous and misguided," (bolding added).
In 2022, 126 organisations signed a CEOBS call for NATO to make its GHG military emissions tracking methodology public, so that independent experts could assess its credibility. 
NATO Offers GHG Methodology
When NATO published its long-awaited Greenhouse Gases Emission Mapping and Analytical Methodology this year, at NATO's Vilnius summit, held July 11-12 2023, there was immediate interest though no sigh of relief. 
The CEOBS was quick to react with an article pointedly entitled "NATO's GHG emissions tracking methodology – a small step forward?", noting that it was "as important for what includes as for what it omits."
On the minus side, CEOBS notes:
"NATO members are still excluded from NATO's institutional Net Zero pledge. Similarly, the methodology fails to set out their militaries' emission reduction targets, or commitments, or whether these align with the Paris Agreement to keep global heating below 1.5oC."
However, as CEOBS itself remarks, "Since NATO has no powers to instruct its members' national reporting or target setting, this isn't too surprising." 
(3/8) In the absence of a standard reporting framework for military emissions (which ideally would sit within @UNFCCC), this methodology could become the framework widely used by militaries- so really, it has to be far more robust and coherent than what has been published.

— The Military Emissions Gap (@milemissionsgap) July 18, 2023
On the plus side, NATO has come through with guidance for its members:
"the methodology does state that it may be useful to NATO members in facilitating the development of their own national plans, and that it has been developed drawing on their existing best practice. This demonstrates that NATO can take a lead through encouraging members to implement the methodology, through reporting emissions data and by making further improvements to the methodology."
But, and this is a big "but", there is a "glaring omission":
One surprising and significant omission from the methodology is the exclusion of specific organisational emissions. Whilst it states that it covers "the NATO enterprise", including NATO's civilian and military facilities and installations, it explicitly states that the emissions from NATO-led operations and missions, and other activities such as training and exercises, are excluded. 
This means NATO has given itself a carte blanche to pollute when engaged in its own NATO-led activities.
Further, the Military Emission Gap concurred, tweeting: 
"… [O]ur biggest concern is one significant exclusion – NATO-led operations and missions, including training and exercises. These activities are explicitly excluded with no justification, which will be a significant gap in data and not the transparency we need" (bolding added).
Military Emissions Gap: Solutions Offered
That the collective carbon footprint of the world's militaries surpasses that of Russia, ranking it as the fourth-largest national emitter globally if treated as a single entity, cannot easily be ignored. 
In line with that sentiment, the Military Emission Gap initiative is urging governments to address this issue at COP28 and introduce mandatory reporting using the Greenhouse Gas Protocol's system. 
They also want governments and their militaries to pledge clear military emission reduction targets consistent with the Paris Agreement, implement robust reporting mechanisms, and switch to renewable energy sources to reduce reliance on fossil fuels. 
In a podcast with Nature, Oliver Belcher, co-author of a report called "Decarbonize the Military – Mandate Emissions Reporting", said that we need to bring militaries and researchers closer together in order "to develop robust methodologies to calculate the emissions from [military] operations." 
Furthermore, he stressed, "to think deeply about how war contributes to climate change and have that be part of the discussion when wars are being offered as solutions to some sort of problems." 
Dr Stuart Parkinson argues that instead of searching for alternative, low-carbon methods of waging wars, governments should prioritise diplomatic efforts, international disarmament treaties, fair trade, poverty reduction, and comprehensive carbon emissions reductions across all sectors of the economy in order to effectively create a more secure world.
The United Nations Framework Convention on Climate Change (UNFCCC) stated that currently, there are no specific plans to revise the guidance on military emissions accounting. 
Whether this will lead to protests or other actions to draw attention to the issue remains to be seen but there is hope that the issue can be brought up for discussion in future summits, such as the upcoming COP28 in Dubai. 
---
Editor's Note: The opinions expressed here by the authors are their own, not those of Impakter.com — In the Featured Photo: A convoy of M60 main battle tanks move down a road during a training exercise. Featured Photo Credit: Picryl.