"Once a plastic drinks bottle is empty it is perceived as redundant and is thrown away. I wanted to challenge this wasteful paradigm" Michelle Brand
Meet Michelle Brand, an eco designer from Manchester, England. Michelle's work is a direct response to current environmental problems. Her designs don't only give a second life to a mass-produced object, but also highlight our society's throw-away culture and the important need of providing additional resources for recycling.
She creates amazing things such as lighting cascades, room separators, jewelries and even dresses made from plastic bottles. Every bottle base in her designs represents a bottle that has been creatively diverted away from a landfill.
Multiple awards winner, Michelle launched more than 30 exhibitions worldwide, shared her professional experience with the students of different Universities in UK and Hong Kong. In 2010 she was invited as a judge for an international design competition "Fight poverty, Less waste more rights" at Utilita Manifesta Design For Social in Italy.
"Simple, yet stunning", this is how her designs can be described.
Q. How did it all started? What was the journey like?
I decided to go back to University at the age of 30yrs. I have always painted and drawn. But I choose Bsc in Product Design and Development. I had to give up my full time job as a nurse to go back to University so it was a big step, scary, daunting but exciting! I think we forget how to be creative once we have a job, all we think about is the money, the bills, and the weekend. I wanted more to think about!
I made the connection early on, that I was not interested in designing IT games or Televisions. Instead I looked at why we choose things and I wanted a narration and a reason behind my work. I realized about myself I loved to problem solve. When you do more creative things you learn things about yourself you did not know! We all have something to give society.
Q. How challenging is it to work with recycled plastic materials? What is the process like?
It is very challenging because using recycled materials was not fashionable and even my tutors and peers where a little skeptical!! It is a challenge to think of an object that has been used and not think of it as useless. We are still a "throw away culture" and so that what I did to "rethink" how I saw things, give them other meanings.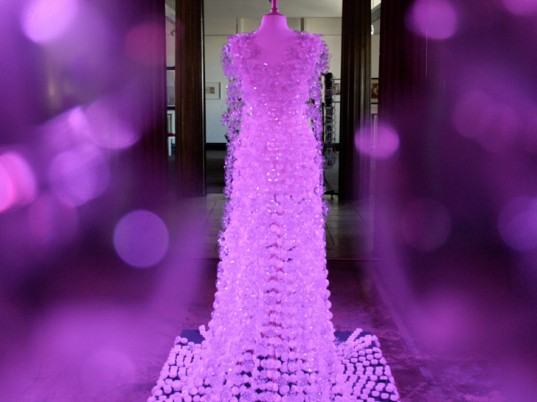 In the photo: "Green with Envy" wedding gown made of 2,220 recycled plastic-bottle bases, 6,512 plastic-bottle tops and 13,880 tags.
Q. Do you work all by yourself or do you have a team?
Mostly I work alone but when I have a big deign on I have my volunteers, which help me.
Q. What kind of audience is mostly interested in your works?
A very wide and broad audience, from the Big Design stores in New York to individuals who are working on their own personal creative practice.
Q. What is the latest project you are working on about?
Recently I have taken time out to do some directional thinking. But I am looking to collaborate with a women's project in Nigeria.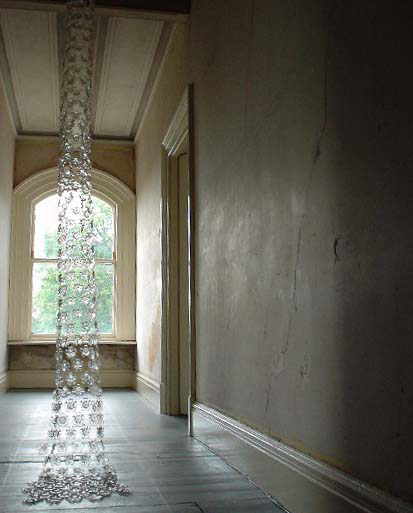 In the photo: Cascade
Q. Where do you get your inspiration? What motivates your work?
I get my inspiration by looking. Very often we look but we don't see, as we are too busy. There is so much work to be done, so much waste, so many people without work… Motivation comes from trying to change something, make something wrong and turn it into something right… let's say, make sense of things.
Q. What is the future plans for your work?
My work is now aiming at consultancy collaborations with companies, which are serious about making changes in their manufacturing processes with regards to sustainability.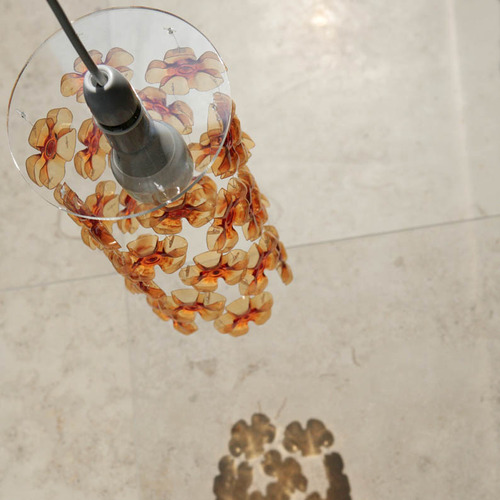 In the photo: Mini Cascade
Q. What impact does your work with plastic have on your personal development?
It has been like opening a door to a new world. Plastic is a wonderful material and it has helped us to build the products we have all come to love today. As humans, we have yet to realize the negative legacy of our consumer lifestyle and the waste we have created. We need to clean up after ourselves like Mother Nature does!
Q. What would you say if one day you didn't have available materials to work with, because no waste is produced?
I would be happy and say "Hooray" but I doubt this will happen in my lifetime. Green design helps set an educational example to new consumers. Actually a lot of consumers are getting more environmentally savvy and young people are far more aware of green products and are expecting to see them. I think we will be seeing more of them because they are more interesting and surprising!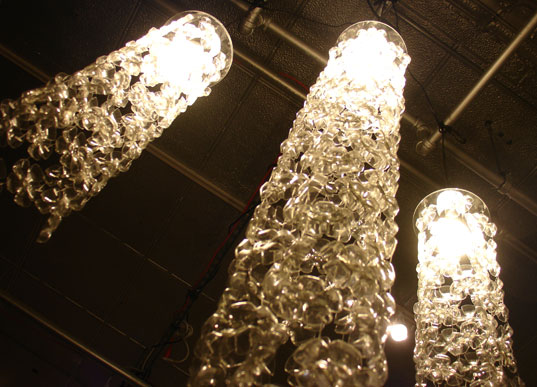 In the photo: Cascade Chandelier
Q. How do you like to spend your free time? What are your hobbies?
I love to spend my free time by riding a bike or do some sports like swimming, water polo and yoga.