The World Bank recently published a report declaring that as many as 38.5 million people will be displaced in East Africa because of climate change by 2050. It identifies hotspots where climate migration will be felt most acutely – notably in Tanzania, Uganda, Kenya, Rwanda, and Burundi – whereby entire communities will be forced to leave due to extreme weather events caused by global warming.
People affected will include drought-stricken farmers seeking new arable land or different work in urban areas, and others driven out by the need to find clean water.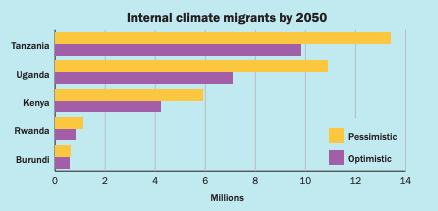 The nations that surround these hotspots will experience seismic shifts within their own communities. Currently faring relatively well, they will observe a substantial number of people arriving, putting pressure on their social, economic, and political systems. 
Internal migration can increase stresses on the already limited resources and job opportunities within a community. If not managed this could cause conflict and instability within the East African region as a result of greater economic and social grievances.
Hafez Ghanem, the World Bank's Vice President for Africa's East, and Southern Region, asserts the need for local, national, and global action, to drastically cut greenhouse gas emissions, as well as to invest in adaptation and resilience within the region.
Although he fears the damages caused by these extreme climate events and global warming are so immense that even schemes to reduce their impact may not reduce the amount of internal climate migration that will occur within East Africa.
The impact of climate change on East Africa
The population of Kenya, Rwanda, Tanzania, Uganda, and Burundi have been experiencing worsening droughts, extensive flooding, and an enduring immense locust infestation that began in 2019 and which continues to wreak havoc. Along with the pandemic, these nations have been plunged into multiple crises stripping them away from their most basic needs such as clean water, food security and no poverty.
To make matters worse, the climate is warming up fast. According to the World Meteorological Organisation's (WMO) latest report, the global mean temperature in 2020 was one of the three warmest on record, at about 1.2 degrees Celsius above pre-industrial level. Concurrently, sea levels have been rising, and at a faster rate partly due to increased melting of the Greenland and Antarctic Ice sheets. This is causing destructive erosion, frequent flooding and agricultural soil that is contaminated with salt, thus severely endangering the economy of the East African region that is heavily reliant on agriculture.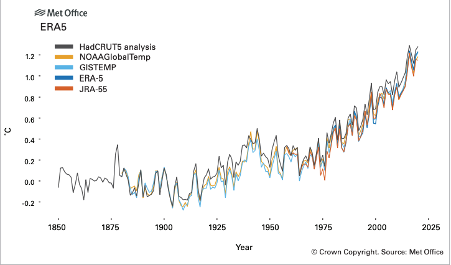 The WMO also forecasts that Africa's three eastern glaciers – the Mount Kenya massif (Kenya), the Rwenzori Mountains (Uganda), and Mount Kilimanjaro (United Republic of Tanzania) – will vanish by 2040, a shocking prospect. Mount Kenya is likely to be deglaciated a decade sooner, which would make it one of the first entire mountain ranges in the world to lose glaciers due to anthropogenic climate change.
The disappearance of these glaciers is not only a great natural loss, but has been crucial for scientific research and for the region's economy – around 50,000 tourists climb Kilimanjaro annually. 
Josefa Sacko, the African Union Agricultural Commissioner, claims that "By 2030, it is estimated that up to 118 million extremely poor people (living on less than $1,90/day) will be exposed to drought, floods, and extreme heat… if adequate response measures are not put in place." Causing the continent's economy to shrink by 3% and fuelling greater instability and conflict. 
Global responsibility needed ahead of COP26: Funding climate aid is key
To minimise the negative impact induced by climate change and internal migration, the World Bank has announced greater efforts and financial funding must be directed towards reducing greenhouse gas emissions and climate adaptation schemes. It is argued that, whilst it would not reverse the trends of climate migration it could cut projected numbers of displacement by 30%.
Tensions have risen ahead of the COP26 Climate Summit that is set to begin this Sunday. Developing countries, bearing the brunt of the effects of global warming, are rightfully resentful towards the world's 20 largest economies, which are behind 80% of greenhouse gas emissions. Africa's greenhouse gas emissions account for less than 4% of total emissions, yet an estimated 1.2 million people were displaced by storms and flood in 2020, which is nearly two and half times as many people who fled their homes because of conflict.
Rich nations failed to meet their promise of delivering $100 billion for four years from 2020 to low-income countries. On Monday, COP26 president Alok Sharma, admitted they had not reached this goal and the funding programme is set to be delayed by three years. African countries want a new system to track funding and ensure they have the money to pull themselves out of economic precarity, towards economic growth. 
---
---
The $100 billion figure is also considered to be largely symbolic. The figure should be a lot higher. The OECD countries have inflicted about $15 trillion in damages through carbon emissions alone. If they were to pay this off, the figure would be a lot greater than $100 billion annually. 
Meanwhile, the World Bank has announced a new Climate Change Action Plan, complementing the Next generation Africa Climate Business Plan, which will ensure 35% of its financing over the next five years will contribute to climate action. The funds will serve to address climate change and pursue low-carbon, resilient development pathways.
Kenya has also demonstrated great leadership in the region and has established a policy framework to manage climate risk, but this initiative remains largely under-funded.
Ahead of COP26, it is important we stress the need for global responsibility to take concrete actions in cutting greenhouse gas emissions to reduce the scale of internal climate migration. True cooperation and trust are required to spread the burden felt by low-income countries upon the effects of global warming caused by the developed countries.
---
Editor's Note: The opinions expressed here by Impakter.com columnists are their own, not those of Impakter.com. — In the Featured Photo: Men reselling drinking water since there is no running water for hundreds of people. Featured Photo Credit: Solen Feyissa.