In their new report, Oxford University researchers look at how renewable energy has evolved, specifically "key green technologies" like solar, wind, batteries and electrolyzers, in order to predict economic trends and growth. 
According to their findings, transitioning to clean energy would save the world $12 trillion by 2050, and doing so quickly rather than gradually would be cheaper. 
"Compared to continuing with a fossil fuel-based system, a rapid green energy transition will likely result in overall net savings of many trillions of dollars — even without accounting for climate damages or co-benefits of climate policy," the researchers write. 
Gas prices rise, cost of renewables falls
As gas prices swell to new highs and renewable energy acquires the funding for new development, clean energy is predicted to become cheaper in the long run than fossil fuels, according to the report.
Having scrutinized historic trends from both fossil fuel products and renewables over the past 140 years, the researchers found little change in the fossil fuel energy prices over the past several decades, even after considering inflation and market volatility.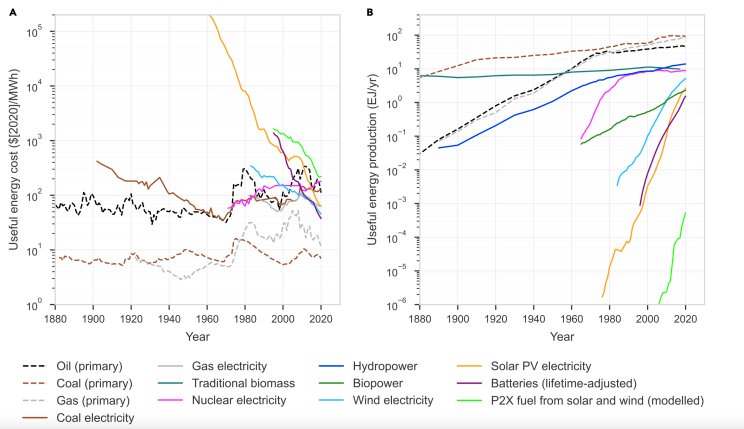 The data compares the steady price of fossil fuels to the rise of renewables over the past 10 decades. As can be seen in the graphs above, the prices of clean energy technologies (with the exception of nuclear energy) have fallen drastically since the 1960s.
Although renewables have been around significantly shorter than fossil fuels, data already shows the cost for wind and solar power has fallen 10% a year.
When zeroing in on solar energy and comparing it to oil, researchers found – with a 95% confidence interval – that the projected 2050 costs of solar energy would be twice as cheap as the price of oil. 
According to researchers, switching from fossil fuels to renewable energy would save the world close to $12 trillion by 2050.
Already, at the time of writing, wind and solar are the cheapest options for new power projects, yet uncertainty on how green power grids will hold when faced with unpredictable weather still gives way to concern.
Unpredictable weather, unpredictable clean energy outcomes 
Solar panels rely on the sun to generate energy. Windmills rely on sufficient wind to spin turbines and produce electricity. Both require certain weather characteristics to function. 
As a result, many have expressed concern over how clean energy will function without ideal circumstances.
According to Solar Feeds, a wholesale solar marketplace, solar panels can still work without natural daylight and at night. This is due to technological advancements of net metering and solar storage technology which allows the solar panels to access energy at times of low light.
On relatively cloudy days, however, solar panels still do not produce the same amount of energy compared to the average day.
Solar Feed states that on very cloudy days, solar panels produce 10% of what they usually do in the daytime with natural sunlight.
Solar panels are also affected by extreme heat. As temperatures go above 35 degrees Celsius (95 degrees Fahrenheit), solar panel efficiency starts to decrease; in other words, the higher the temperatures reach beyond 35 degrees Celsius, the less efficient the solar panels become.
Surprisingly, solar panels are said to produce energy more efficiently in cold weather — a clean energy alternative that may be a viable solution for escalated energy concerns as winter nears in the UK.
Solar panels are built at an angle to encourage snow runoff and withstand high winds from weather events such as snowfall and hurricanes for the most part; however extreme winter storms still pose questions of uncertainty. 
Experts state heavy snowfall can put weight on the PV support system in the solar panels, blocking sunlight from reaching the panels and hindering solar energy usage. Yet they also mention that once the snow starts to melt, the angle of the panel allows for snow-run-off — only severe circumstances posing severe threats of energy setbacks.
 In February 2021, winter storms in Texas put solar panels to test after a severe snow storm led to the occurrence of power outages statewide. Many skeptics blamed the outages on flawed green energy sources, yet reports showed these renewables (mostly frozen wind turbines) contributed to a relatively small portion of the power outage — natural gas and coal were instead the biggest contributors.
Wind turbines also come with challenges, with high winds potentially leading to wind turbines spinning out of control.
However, advancements in the field are being made to improve wind turbines' ability to withstand unpredictable forecasts.
In 2018, the European Union-funded Nordic Njord Offshore Wind Farm developed wind turbines for specific regions in Europe to endure extreme weather circumstances and provide communities with electricity in lowlight conditions. 
According to the EU, these wind turbines can not only endure extreme weather conditions for long periods of time, but can last up to 25 years with little to no maintenance.
As weather around the world becomes more unpredictable and gas prices continue to inflate, recent innovations in clean energy as well as record low costs and high adaptability are a great sales pitch for nations and communities to adopt worldwide.
"Even if you're a climate denier, you should be on board with what we're advocating," Prof Doyne Farmer from the Institute for New Economic Thinking at the Oxford Martin School told BBC News. "Our central conclusion is that we should go full speed ahead with the green energy transition because it's going to save us money."
---
Editor's Note: The opinions expressed here by the authors are their own, not those of Impakter.com — In the Featured Photo: Wind turbine in Snowflake, Arizona on November 7, 2010. Source: TLPOSCHHARSKY, Flickr.