Conscious of our warming planet, I set out to find companies with climate-focused ideology ingrained into their strategy from inception. This took me on a journey via the Silicon Roundabout in London, lecture halls, networking events, and multiple face-to-face meets; in short, some good old-fashioned market research.
Green-tech Startups:
Entrance to the startup world requires understanding crucial terminology: angels, cap table, dilution, exit, founders, intellectual property, patent, pitch deck, seed a, series a, team, venture capital.
The title of the market is however a helpful initial tip, a 'startup' represents a company at the birth of its potential lifecycle.
What do I specifically mean by "green-tech"?
This niche of early stage technology companies dreams of a future low-carbon economy, safe from today's polluting fossil fuels, and in synergy with the natural world. This, of course, requires the development of technologies to provide for our everyday needs.
Lofty ambitions are not easily achieved however, with startups representing the highest level of risk for entrepreneurs and investors alike, and failure is likely. The office for national statistics state that in the year 2014/15 a total of 383,000 businesses were born, and 252,000 died in the UK.
There are several areas that beg for innovation to jumpstart the "green" economy, and here are some of the most important ones I came across, from connectivity requirements, cooling and off-grid energy to thermal energy and more.
Connectivity
Seamless connectivity is the doorway to an improved standard of living, and an area that is witnessing huge innovation and investment. 
I met with Buffalo Grid, whose vision is: "connecting the next 1 billion". Daniel Becerra, CEO, describes their offering as "a hardware enabled software as a service model"; this is effectively a battery unit supplying an internet connection.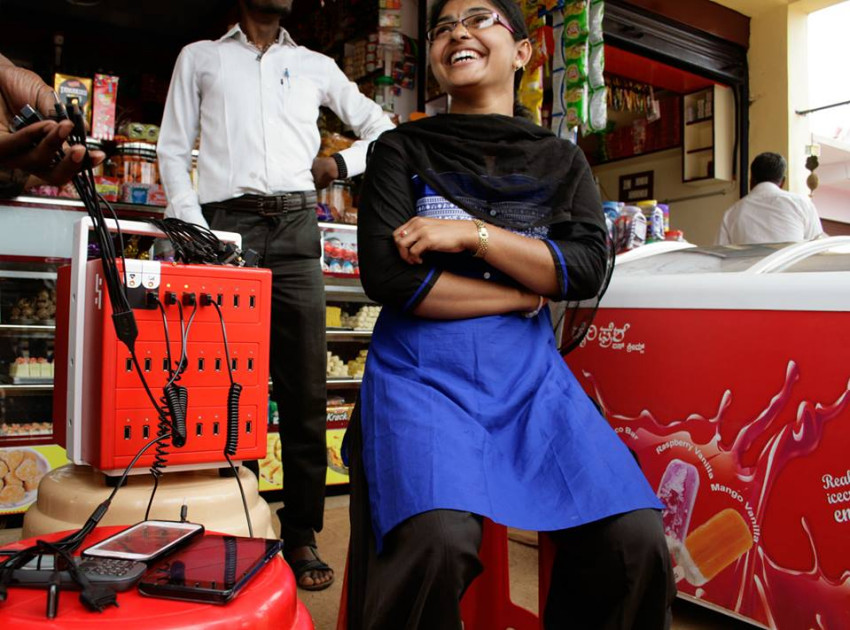 In the photo: Meet Anita, one of our new agents. Anita is a true entrepreneur. In her village, she owns and manages three local stores, one banking outlet and now one BuffaloGrid mobile power hub. Our team took this picture while visiting one of her stores in Konunduru, a village in rural Karnataka, India – Credit: BuffaloGrid
Buffalo Grid's Hub
Multiple users can charge their mobile phones, whilst simultaneously accessing the internet. Importantly, if a user has not registered online the hub will not charge their phone.
Assuming the hub is charged from a renewable source, this product has the ability to bring all the benefits of e-commerce to those without clean energy at home.
Cooling
The cold economy is not at the top of our agenda here in the UK, but for the burgeoning middle class of Africa, Asia, and Latin America, it could not be more different. Lee Kuan Yew, the founding father of modern Singapore, helps to highlight how crucial one of the major segments of 'cooling' is; he believed air-conditioning to be the most important invention of the last millennium.
Professor Toby Peters, cold economy expert of the University of Birmingham, states: "if cooling continues to be supplied with conventional technologies, which are energy intensive and highly polluting, the results could be disastrous". Business as usual simply will not suffice.
One company focused on solving this challenge is Solar Polar, a renewable cooling product design specialist. Robert Edwards, CEO, and his founding partner Michael Reid had a clear vision, "we wanted to create the cheapest kwh of renewable cooling".
Solar Polar's cooling unit.
The result is a product which collects thermal energy from the sun, then via a gasification process, produces cold. Buildings, fresh produce and vaccines can now be kept cold, at far lower cost to the consumer and environment.
Heating
How to heat our buildings? It is essential we answer this in order to transition to a low-carbon economy. In the UK, 40% of energy consumed and 20% of greenhouse gas emissions are due to heating, a staggering figure. Electrification of heating is one route, subject to renewably sourced energy of course; a route which I believe to be the most plausible.
Franck Energy founder Marcus Franck is aiming to do just that, having started his web-focused business consulting the UK domestic market for renewable products. In particular his focus on the installation of heat pumps is progressive, and likely to have a big impact in the off-gas-grid retrofit market, some 4 million homes.
Micro-grid
The role of the micro-grid in our future cannot be underestimated. Think of all the remote locations where it is difficult to supply energy: farms, mines, military outposts, scientific exploration sites, villages; all of which would benefit from a reliable energy source.
The recent hurricane season only serves further credence to the importance of off-grid energy, with many Caribbean islands and parts of the USA in desperate need of energy, energy that their national grids or existing infrastructure cannot supply now due to damage.
One market of particular focus is sub-Saharan Africa, where 600 people million live without electricity, a challenge which solar energy micro-grid generation is well placed to tackle.
Winch Energy has developed a solution, aimed at supplying connectivity and energy to businesses, towns and villages.
Winch Energy's Remote Power Unit
The product is essentially a shipping container which unfolds a scaffold, placing solar panels above, and an internet connection. It is designed to travel on the back of a lorry, and be unpacked in only a couple of days.
CEO, Nick Wrigley, believes the product has the ability to supply "prosperity" to many communities.
Hybrid Photovoltaic thermal (PVT)
When a photovoltaic cell is used to create electricity from the sun, it creates heat; what if you could harness that thermal energy as well as the electricity?
In conversation with Finbarr McCarthy, of Kingspan Environmental, he states "Solar PVT technology is often seen as the holy grail, combining the benefits of both Solar Thermal Collectors and Photovoltaic Panels, for applications with thermal and electrical loads."
A London based start-up focused on tackling this is Naked Energy, who have created the "Virtu".
Naked Energy's Virtu
Virtu, optimally installed, has the potential to supply a building's electricity, heating and hot water demand.
Storage
There are many academics, corporations, entrepreneurs, governments, and innovators focused on energy storage; it is the key to transiting to a low-carbon economy. Due to the predicted fall in battery prices, rapid uptake might not be as far away as originally expected.
One vision of our future belongs Professor David Shipworth, of University College London, he is a proponent of "Transactive Energy". This system envisions our energy produced and consumed locally, via peer-to-peer networks, requiring the proliferation of energy storage.
Catch Energy, in the eyes of Chairman David Collett, aim to become simply an "energy storage solution provider"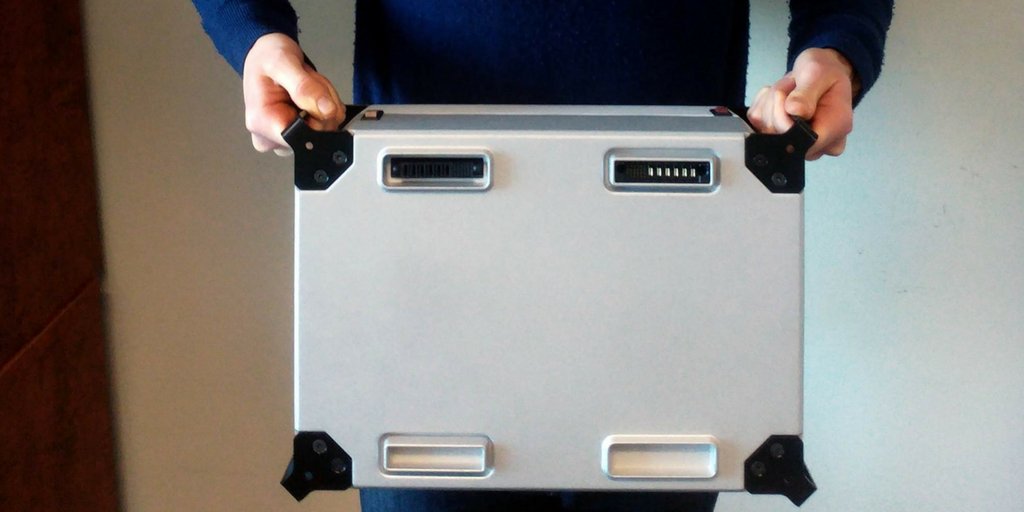 Catch Energy's Power Cell stack
Their current focus has been on Lithium-Titanate technology, chemistry that has superior life-cycle and safety characteristics to the more commonly known Lithium-Ion, however at a higher initial cost.
Powervault, a company further down the commercialisation path, and widely known in the UK market after successful crowdfunding rounds, offer a Lithium-Ion or Lead-acid energy storage solution.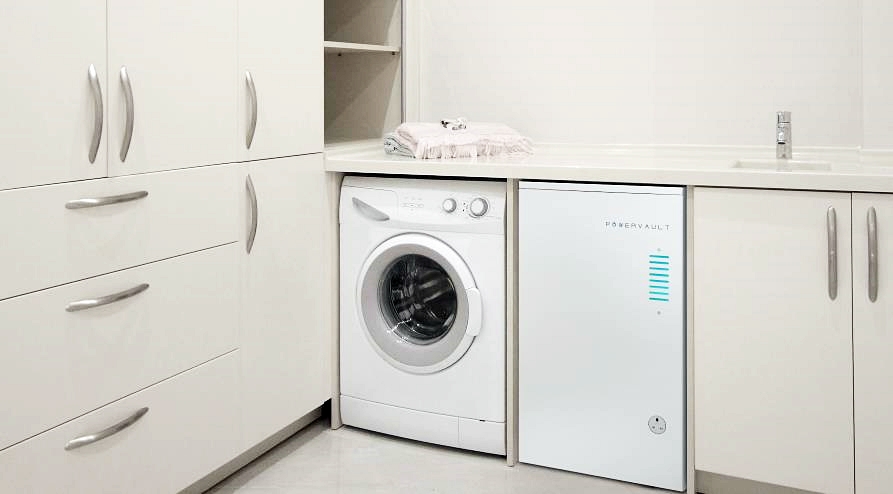 Powervault's domestic energy storage unit
Interestingly, both companies aim to upgrade their energy storage offering into the supply networks they create, as new chemistries are developed around the globe.
The offer
London's collection of entrepreneurs, inventors, and investors alike, are without doubt rising to the challenges posed along the route to a low-carbon economy.
Paramount, the success of this community is aligned with all of our future's, and the acceleration to market of their innovations essential.
This summary represents only a handful of the companies working towards the shared vision they possess, a signal of just how dynamic the market is, I look forward to investigating further.
Who is likely the 'unicorn' of green-tech?
---
EDITOR'S NOTE: THE OPINIONS EXPRESSED HERE BY IMPAKTER.COM COLUMNISTS ARE THEIR OWN, NOT THOSE OF IMPAKTER.COM.