June 8 – 10:30 AM US EST – 3:30 PM CET
Activate introduces its 2023 cohort of entrepreneurs fighting climate change
Activate, a nonprofit dedicated to assisting scientists and engineers in bringing their innovations to market, introduced its Cohort of Activate Fellows for 2023. Comprised of 46 science entrepreneurs, these individuals are transforming their groundbreaking discoveries into businesses that have the potential to help various industries, such as manufacturing, energy, chemicals, computing, and agriculture, achieve their decarbonization and resiliency objectives. This cohort marks Activate's largest to date, selected from a record-breaking pool of 832 applicants across 674 science fellowships.
Since its establishment in 2015, the two-year Activate Fellowship has paved the way for entrepreneurial scientists to transform their ideas into scalable solutions by launching startups that tackle climate change and other global challenges. By collaborating with government, philanthropy, universities, and the private sector, Activate facilitates the transformation of scientists into high-impact entrepreneurs through its two-year immersive program called the Activate Fellowship.
June 8 – 10 AM US EST – 3 PM CET
Uber launches its "zero emissions" initiative
Uber has announced a new initiative called "Go Get Zero" to achieve zero emissions from its ridesharing platform by 2040. The company plans to invest $800 million in resources to help drivers transition to electric vehicles (EVs). It aims to have 100% of its rides in the United States, Canada, and Europe be electric by 2030.
Additionally, Uber is partnering with car manufacturers and charging infrastructure providers to accelerate the adoption of EVs. The company also plans to expand its Uber Green option, which allows riders to choose a low-emission vehicle for their trip, to 1,400 new cities by the end of 2022.
In a separate announcement, Uber revealed plans to offer electric vehicle rentals for drivers on its platform. This initiative aims to make it easier and more affordable for drivers to access electric vehicles, addressing one of the barriers to EV adoption.
June 8 – 9 AM US EST – 2 PM CET
Experts Agree: El Niño could arrive earlier this year
Scientists agree on the possibility of an early and more powerful El Niño event that could intensify the ongoing global warming. El Niño is a natural climate phenomenon characterized by warmer-than-average sea surface temperatures in the central and eastern Pacific Ocean. This causes changes in weather patterns around the world.
The potential early arrival of El Niño is concerning because it could exacerbate the effects of climate change by adding more heat to an already warming planet. The increased heat could lead to extreme weather events, such as droughts, floods, and hurricanes, impacting several regions globally. The last two years that El Niño came this earlier were among the warmest ever recorded in the northern hemisphere – 1998 and 2016.
June 8 – 8 AM US EST – 1 PM CET
Canada asks European Union for help with wildfires
Canada has now submitted an official request to activate the European Union Civil Protection Mechanism. France, Portugal, and Spain were the first to offer firefighters to support the country. More support, including logistics, will come through this program which is managed directly by the European Commission.
All EU countries participate in this mechanism along with nine non-EU Members: Albania, Bosnia and Herzegovina, Iceland, Montenegro, North Macedonia, Norway, Serbia, Türkiye, and Ukraine.
Canada has requested to activate the #EUCivilProtection Mechanism to help put down the devastating wildfires.

🇫🇷🇵🇹🇪🇸 are offering the help of more than 280 firefighters.

We stand ready to provide further support.#EUSolidarity

— European Commission (@EU_Commission) June 8, 2023
June 7 – 6:30 AM EST – 12:30 PM CET
The incredible effects of wildfires on US cities on the East Coast
Unprecedented heavy wildfires in Canada's Nova Scotia and Quebec have sent smoke down across the US border. Large US cities in the northeast were among those heavily affected.
Due to hundreds of uncontrolled wildfires across Canada, New York City looks like a post-apocalyptic hellscape.

If you want a prelude of what the world is going to look like if we do not address man-made climate change — this is it. #ActOnClimate pic.twitter.com/cimHQkDwkZ

— Mike Hudema (@MikeHudema) June 7, 2023
The Manhattan skyline has been hidden behind this large quantity of smoke. Similarly, other cities like Philadelphia, Baltimore, and Washington DC were equally affected.
A future where persistent wildfires out West,
alter the skies in Washington DC

Another #BurnInBook moment come true pic.twitter.com/UznDiMar96

— Peter W. Singer (@peterwsinger) June 7, 2023
People are recommended to avoid going outdoors.  In New York, the government has started to distribute N95 masks to the population. Unfortunately, with no rain expected at least until next week, there is a little chance for air quality improvement over the weekend.
The smokes are now moving south, now reaching Virginia and the Carolinas in the next few hours.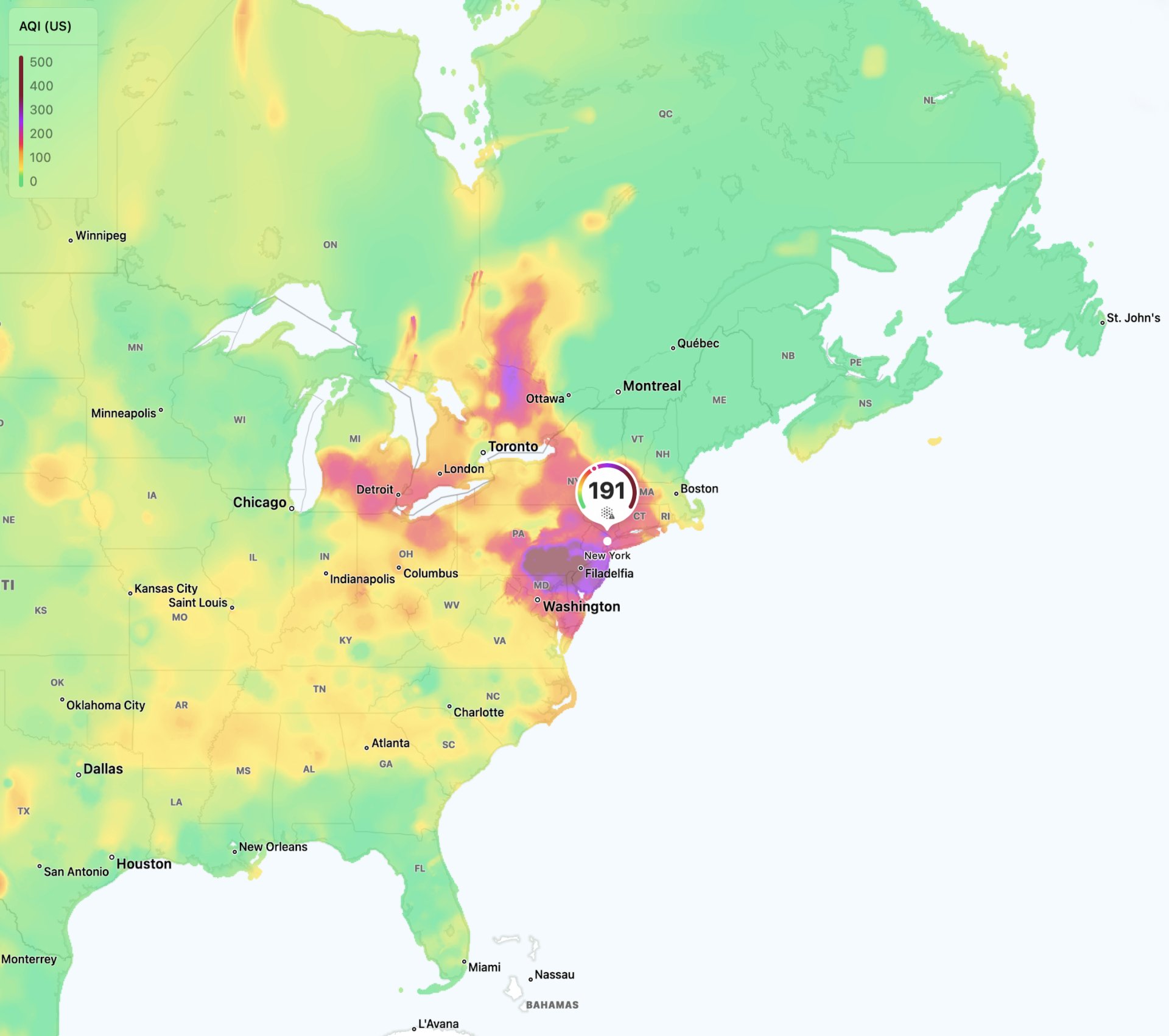 ---
Editor's Note: The opinions expressed here by the authors are their own, not those of Impakter.com. In the cover photo: New York City skyline Photo Credit: Ahmer Kalam.