One of the world's largest energy retailers, Italian energy giant Enel SpA, will be selling clean energy to US businesses for the first time in history.
The announcement comes as U.S. greenhouse gas emissions increased by 4.1% in 2021, according to new data released by the Environmental Protection Agency.
With the Inflation Reduction Acts' passing just a few months ago, more clean energy retailers are now being given the opportunity to establish and invest in clean energy projects. However, there are still major industrial polluters that release toxic amounts of carbon and other greenhouse gases into the atmosphere. Will the Inflation Reduction Act allow a smooth clean energy transition?​​
Texas and other states to receive new, clean source of electricity 
The Italian energy giant received its Texas retail license and is now in the process of signing up customers.  
Enel North America contracts will last between one to three years and will be backed by output from 4 gigawatts of either Enel's solar or wind energy operating in the state. Unlike many other solar projects, Enel won't require customers to enter into long-term power purchase agreements, PPA's, which lock customers in for anywhere between 10-25 years.
By not selling PPAs, businesses will be able to acquire small amounts of clean energy for short periods of time instead of being forced to commit fully to renewable energy  — making non-PPA agreements more desirable to companies who are hoping to smoothly transition to clean energy.
The company's expansion is possible due to the Inflation Reduction Act passed by the Biden Administration in August, which is set to increase funding for renewable energy and accelerate the clean energy transition. 
Already, Enel is making impressive progress in the US with businesses in Ohio, Illinois and Pennsylvania being able to sign up for retail contracts in 2023.
Major emitters raise carbon emissions by 4.1% in 2021
According to the EPA's latest data, 2.7 million metric tons of carbon dioxide were emitted in 2021 coming from 8,100 of the US's biggest industrial polluter sites. This figure only reflects half of the United States estimated carbon emissions, however, it is the most comprehensive site-by-site assessment of the nation's biggest polluters. 
The 4.1% increase in 2021 was due to a rise in economic activity after the height of the COVID-19 pandemic in 2020. While emissions shot up in 2021, carbon emissions are still lower today than pre-pandemic levels by 5.25 percent. 
Across the United States, CO2 and other greenhouse gas emissions from coal and natural gas power plants fuel the acceleration of climate change. The biggest emitters lie all across the eastern half of the United States in regions such as Appalachia and Cancer Valley in Louisiana.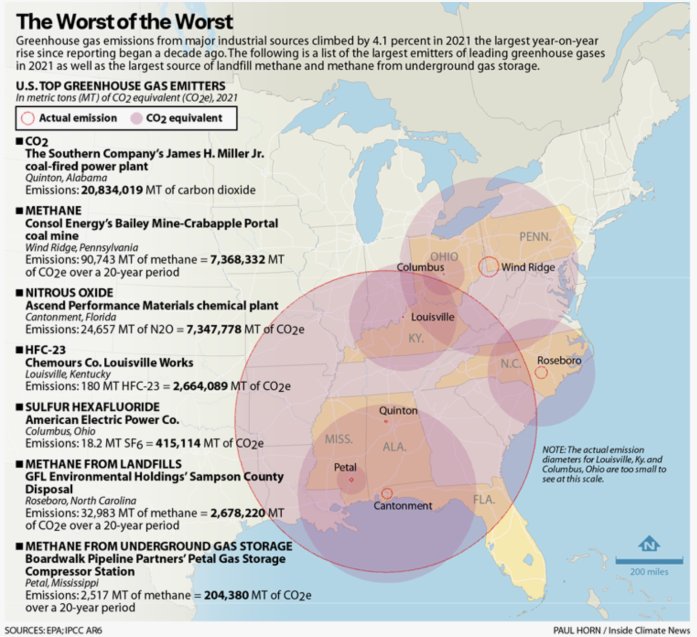 Here are the top five biggest polluters in 2021: 
The James H. Miller Jr. power plant in Quinton, Alabama, owned by The Southern Company,

was the largest coal-fired power plant in 2021 and the nation's biggest emitter of CO2, emitting 20,834,019 metric tons of carbon dioxide in 2021

. Recently, The Southern Company pledged to shut down 80% of its coal power capacity by 2028, however, this does not include the Miller plant.

Bailey Mine, a coal mine operated by Consol Energy, is located in southwestern Pennsylvania and is

the largest single-source emitter of methane emissions in the US. In 2021, 90,743 tons of emissions came from the coal mine, said to be equal to the emissions of 1.6 million automobiles.

Ascend Performance Materials' nylon plant in Cantonment, Florida

released four times more nitrous oxide than any other industrial facility in the US in 2021

, emitting a total of 24,657 metric tons of nitrous oxide. The plant produces adipic acid which is used to make nylon and creates large amounts of nitrous oxide.

Nitrous oxide is 273 times more toxic to the environment than carbon dioxide on a pound-for-pound basis.

In the late 90s, most adipic acid plants installed abatement technology to destroy this nitrous oxide, however, Ascend has never taken any initiatives. In fact, nitrous oxide emissions from the Ascend plant increased by 38% between 2019-2021, despite their pledges to reduce nitrous oxide emissions by 95% in February 2022. 

In 2021, Chemical manufacturer

Chemours released 180 metric tons of Hydrofluorocarbon-23 (HFC-23), a synthetic gas, from its Louisville, Kentucky plant

. According to the UN Intergovernmental Panel scientists,

HFC-23 is 14,600 times more toxic than carbon dioxide on a pound-for-pound basis and is one of the worst climate pollutants ever identified.

Despite the grim data, HFC-23 pollution is set to decrease after the EPA back in October of 2021 required Chemours to either use or destroy 99.9% of the HFC-23 they produced by this past October. So far, the plant has missed the deadline and has been granted a 6-month extension.

In 2021, American Electric Power (AEP) released 18 tons of sulfur hexafluoride (SF6) into the atmosphere from substations across 10 different states.

SF6 is identified as the most toxic greenhouse gas, 25,200 times more toxic than carbon dioxide.

 
As the emission increase in the US and the effects of climate change become ever more apparent, it is a crucial time for a clean energy transition. Already, the first successes of the Inflation Reduction Act are being seen with Enel North America's commitment to sell Texas businesses clean energy. 
Yet the question still remains, will the Inflation Reduction Act effectively accelerate a smooth transition to clean energy when many big polluters are still failing to cut emissions?
It is clear both industries at the time being, will have to coexist together to reduce carbon emissions. However, as long as polluting industries continue to emit toxic emissions, the efforts of clean energy companies will remain ineffective. At the end of the day, coexisting is not a viable option for the environment as polluting industries continue to threaten its survival. 
---
Editor's Note: The opinions expressed here by the authors are their own, not those of Impakter.com — In the Featured Photo: Renewable energy produced by a windmill on April 11, 2022. Source: Frerk Meyer, Flickr.