Water politics is the thirst for power through water. As water becomes an increasingly scarce resource, we will see its presence grow in global discourses, negotiations, and conflicts.
Although water was considered essential for the realization of most human rights, it was not considered a stand-alone right in the Universal Declaration of Human Rights of 1948. It was only made a human right by the General Assembly in 2010. Interestingly, this right includes affordability: "No individual or group should be denied access to safe drinking water because they cannot afford to pay."
Yet, the UN does not sanction governments that are either failing to provide water to their citizens or hoarding it from other populations. Additionally, the UN cannot exactly sanction corporations for similar actions. As a result of this, we are seeing a growing civil society calling for the recognition of a "right to water". They have been active in various fora, ranging from the UN/FAO to the World Forum of Fisher Peoples (WFFP) and successfully putting forward in 2013 the first European Citizen Initiative (ECI) on a human right to water, with close to 2 million signatures from all over Europe. Despite these efforts, we are seeing the gradual control over and privatization of water, in places where money speaks louder than the voice of communities.
According to a 2016 UN World Water Development Report, "three out of four of the jobs worldwide are water-dependent." Consider all of the sectors that need water: agriculture, health, power, industry, as well as the fact that humans are entirely dependent on water for daily life. There is no doubt that power over water means power to do either a lot of good, or a lot of bad. Let us dive into how water is affecting Middle Eastern politics today, a case in point.
Syria
Many global leaders have stated that extended drought was one of the causes of the ongoing Syrian civil war. Al Gore has explained that "the gates of hell" were opened in Syria because of this severe water issue. Between 2006 and 2010, the drought destroyed 60 per cent of Syrian farms and 80 per cent of its livestock, as well as pushed more than one million climate refugees into Syrian cities.
Scientist Bill Nye explains how this set the scene for terrorism:
Not only did water set the stage for the Syrian war, it is now being used there as a weapon of war.
In the major cities of Damascus and Aleppo, water has frequently and deliberately been shut off by different warring parties to exert pressure on the other sides. Al Jazeera reported that water is cut off for several weeks or months at a time, with rival sides blaming each other for the cuts. The first pumping station of the Euphrates River is controlled by the Islamic State, which in 2015 reduced water flow by 60 per cent during July and August, the two hottest summer months. The next two pumping stations are controlled by insurgent groups and the government, respectively. The pumping stations require electricity, which is also frequently cut off. Moreover, the five years of conflict have severely damaged pre-war water infrastructure, making it even more difficult to access the resource.
As we can see with the Syrian conflict, water was important in the build-up to the war, and is now used as a political tool to perpetuate the fighting. Of course, it is the civilians who are victims of the earlier poor political response to the drought and now the political manipulation of water in the cities. Another similar and current example is Yemen, where the civil war has left millions of civilians without access to drinking water.
Jordan Basin
The Jordan water basin is present in Lebanon, Syria, the West Bank, Jordan, and Israel. Conflicts over the basin began back when the Zionists arrived in Palestine in the late 19th century. In 1922, the Jordan River was designated the natural boundary between Israel and Jordan. In order to help Israel gain legitimacy in the region, the U.S. equipped it with a water plan in the 1950s. Soon after, water projects began in the Jordan basin, financially supported by the U.S. By 1967, Arab attempts to divert the River Jordan contributed to the Six Day Arab-Israeli War.
IN THE PHOTO: AERIAL: SHOT OF THE DEAD SEA, PHOTO CREDIT: NASA JOHNSON
Fast forward to today and the situation remains highly politicized. In 2013, Israel, Palestine and Jordan came together on a water agreement that was claimed to be a "rare display of cooperation" between the nations. A desalination plant was going to be built in Aqaba to take water from the Red Sea up to Israel and Jordan. Israel would then have sold water to the Palestinians, making the project ultimately between Israel and Jordan. The project was aiming to increase water access to the countries and potentially help replenish the rapidly-depleting Dead Sea. They planned to do this by sending brine, the bi-product of desalinization, up (or rather, down) to the Dead Sea.
Since 2013, things have changed. The project was put on hold once it proved to be financially impossible and environmentally questionable. In April 2014, Israeli Interior Minister Gideon Sa'ar claimed that the Jordan Valley belonged to Israel, indicating the end of the regional cooperation. Combine this with the fact that Jordan has one of the lowest quantities of water per capita in the world. With its population increasing, according to the World Health Organization, Jordan has needed to tap into non-renewable resources from "fossilized deep-water aquifers." Hence, it is not difficult to envision future water-based conflicts around the basin.
---
Related articles: "DROWNING IN OIL: FOUR COUNTRIES SUFFERING FROM LOW OIL PRICES"
"MY SYRIAN REFUGEE EXPERIENCE"
---
Turkish Dams
Finally, we come to water politics in Turkey. The nation's major dam project, the South Eastern Anatolian Project (GAP), aimed to have built 22 dams and 19 hydro-power plants by 2015. Under construction since the mid-1970s, these dams have severely affected flows into the major Tigris and Euphrates rivers. Because of such control over water, flows into Iraq and Syria have been reduced by 80 per cent and 40 per cent respectively.
The European Union, in a March 2008 resolution, asked that Turkey take into account how it was affecting water supplies in neighboring countries. Nevertheless, 2010 saw an explosion of tension. According to some sources, Syria and Iraq jointly invaded Turkey because of severe water shortages in their own countries. Another source, however, indicates that "Turkey and Iraq come to the brink of war after a failed attempt by an illegal organization from Iraq to explode one of Turkey's dams." The result was a threat from Turkey to completely suspend water access to Iraq and Syria. Both have accused Turkey of causing water shortages, and the decreased water flowing down through the countries continues causing tensions to today.
To further illustrate how Turkey has used water as a political tool, let us look at an earlier conflict. Water used to be used to deal with the PKK, the Kurdistan Workers' Party, an illegal group fighting for Kurdish rights in the region. According to social scientists employed by the GAP project, the benefit brought to the Kurds by the dams would help resolve the Kurdish problem and even turn Kurds into Turks. This claim is highly questionable, but demonstrates how control over water was/is being used as a means of gaining control over people. To expand on this, academics claim that the "security dams" built in certain areas, like in Hakkari, are used as part of a "broader war strategy" against the PKK.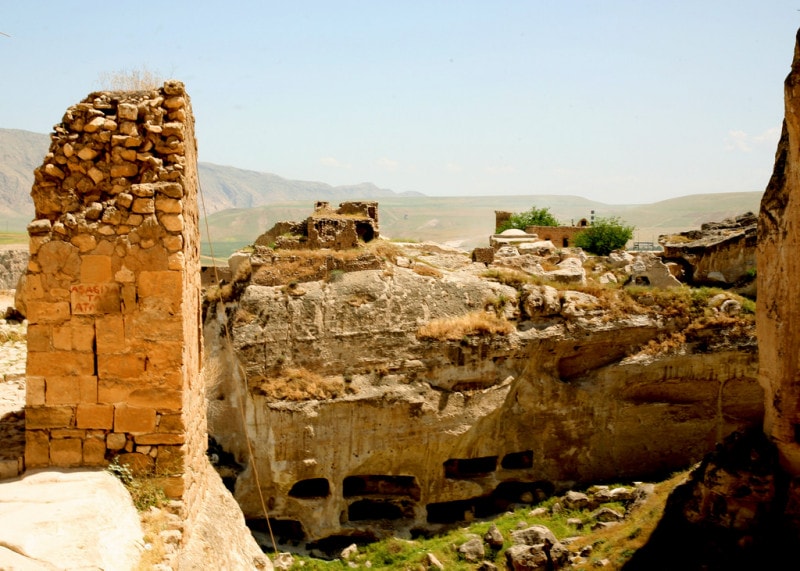 In the photo: HASANKEYF, TURKEY, PHOTO CREDIT: FLICKR/OPALPETERLIU 
Not only are the dam projects of political concern, they also threaten historical sites in Turkey. For example, according to the National Geographic, the Ilisu dam being constructed in southeastern Turkey will submerge dozens of towns along the Tigris River, most notably 12,000-year-old town, Hasankeyf, under 60 meters of water. This is one of the oldest sites of evidenced human settlement that has been found. Not only will the dam destroy this, it will also affect more than 35,000 people. Turkey's dams are giving the government the power to erase the past and re-shape the future.
---
For a full mindmap behind this article with articles, videos, and documents see #Water
---
Where Now?
Only a small handful of water conflicts have been mentioned in this article, limited to the Middle Eastern region. There are many more cases of water being used as a political tool. From Arabs cutting off water supply in West Jerusalem in the first Arab-Israeli War of 1948, to Nasser nationalizing the Suez Canal in 1956, to Puerto Rican protesters blocking water access to US Roosevelt Roads Navy Base in 1999, to Uyghur Chinese civilians killing Han dam builders in 2013, to more than 1.3 million Ukrainians suffering from severe damage to water infrastructure by 2015, water politics is well and alive.
To prevent water politics from manifesting into larger and more violent regional conflicts, institutions like the United Nations are going to have to give greater attention to the resource. Without this, we can be sure that future fights over water will put the lives of large populations at risk. As Brahma Chellaney says, yesterday's wars were over land, today they are over energy, and tomorrow they will be over water. Either we change the way we handle our scarce resources, or they will change us.
Author's note: For further research, the Water Conflict Chronology shows many of the water conflicts of the past 4500 years. This resource shows the date of the conflict, the parties involved, and the basis for the conflict e.g. terrorism, religious account, military tool, etc.
---
Recommended reading: "BLUE GOLD: THE COMING WATER WARS"
---
—
EDITOR'S NOTE: THE OPINIONS EXPRESSED HERE BY IMPAKTER.COM COLUMNISTS ARE THEIR OWN, NOT THOSE OF IMPAKTER.COM.
Article about water crisis in the Middle East Instagram.com