Editor's Note: This is the eighth piece in a series exploring the Sustainable Development Goals. See the introduction to the series here.

Why is it that some countries enjoy sustained levels of peace and prosperity while others remain trapped in cycles of war and turmoil? That question cannot be answered simply. Without delving too far into the expanse of relativism, every nation has its own history, socio-cultural context, political/economic circumstances, legal pluralities and set of relationships to the rest of the world. One can try to make generalisations as to why some countries remain peaceful while others do not, but what do such sweeping analyses bring to pragmatic solution-making? At best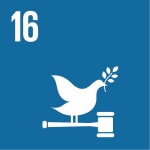 , a foundational understanding of global politics and, at worse, a seriously misguided understanding of global politics. The 16th Sustainable Development Goal (SDG 16) adopted by the UN as part of the 2030 Agenda seeks to promote peaceful and inclusive societies for sustainable development, provide access to justice for all and build effective, accountable and inclusive institutions at all levels. If SDG 16 is to be successful, it needs to investigate national and regional contexts on a case-by-case basis and find realistic solutions to damaging institutional forces.
Sustainable Development Goal 16 has been created on the premise that endless cycles of conflict and violence are escapable and must be addressed. Sustained armed violence hinders economic growth and development and can result in profound grievances among communities that are carried along for decades. The aim of  SDG 16 is to work with governments and communities to find solutions to violence and instability.
In the photo: Citizens register for birth certificates and National Identity Cards (NIC) at a mobile legal aid clinic in Sri Lanka. Credit: UNDP.
To address serious shortcomings in justice and peace, the UN considers essential: the rule of law, human rights promotion, reduced flow of illicit arms and increased participation in global governance.
Although SDG 16, as is the case with all of the goals, is not legally binding, there is an expectation that governments adopt the goals and incorporate them into their national frameworks. The SDGs are not there to prescribe national policies but to act as a compass that coordinates national efforts. The Addis Ababa Action Agenda is providing the financial support for these global efforts, strengthening the Financing for Development follow-up process that came out of the Monterrey Consensus and the Doha Declaration last decade. Features of the Addis Ababa Agenda that are especially relevant to SDG 16 are the recognition of the value of the Peacebuilding Fund, which was founded in 2006 and seeks to prevent countries from relapsing into violent conflicts.
Children and Women
The effects of unstable and violent institutions are quite poignant. According to the UN, the rate of primary school children leaving school in conflict areas reached 28.5 million in 2011, which is 50 percent of the children in these regions.
Interestingly, one of the targets of SDG 16 is to ensure a legal identity for every individual, including official birth registration. According to UNICEF and the WHO, close to half of the world's children are born without being registered. This amounts to some 51 million babies born each year that legally do not exist. Not having a birth certificate acts as an obstacle to these children accessing health care, protection from child marriage and different forms of exploitation (e.g. labour), protection from under-age military service, getting a passport and the right to a nationality, to name a few.
If you are invisible, you are vulnerable.
In the photo: Mother and child in Ukraine, a country where efforts are made by the UNDP to support internally displaced people that are victims of conflict. Credit: UNDP Ukraine.
"How can you measure progress on goals when not every child is counted? How can children be vaccinated if nobody knows they even exist?" said Nicoleta Panta, advocacy manager at Plan International's universal campaign for birth registration. "If you are invisible, you are vulnerable."
It is easy to see how vital this target is for ensuring functioning governance. Another important factor is the inclusion of women in governance. From 1992 to 2011, only 9 percent of peace negotiators were women, and only 22 percent of the world's national parliamentarians were women as of August 2015. Gender-based violence cannot be expected to be eliminated without the participation of each gender in national negotiation and policy-making.
Additionally, there needs to be a political neutrality of the institutions that exist between the government and the governed. This is outlined by Michel Foucault in a debate with Noam Chomsky, when he acknowledges that the supposedly neutral institutions, such as that of the police or the university, are not at all neutral. In fact, they function as intermediary institutions that transmit the power/agendas of the government. Under the context of a violent and unjust government, the intermediary institutions will also be governing in a violent and unjust manner. This interaction of power is another factor that needs to be studied and understood when creating pragmatic, national peace policies.
Implementation
Implementation is a particularly high hurdle for SDG 16. How can we ensure that governments of unstable and conflict-ridden countries transform into peaceful and fair institutions?
The Inter Agency and Expert Group on SDG indicators (IAEG-SDGs) will have created an indicator framework by March of 2016 to monitor progress of individual countries, in an attempt to ensure that the goals are met. The framework will be agreed on by the UN Statistical Commission, before being adopted by the Economic and Social Council and the General Assembly. Approximately two indicators will be made for each of the 169 targets for the 17 SDGs and there will be an annual SDG Progress Report prepared by the Secretary General to ensure frequent follow-up and review.
In the photo: UN's Economic and Social Council Chamber- Credit to ECOSOC.
The SDG and all of its indicators will create a demand for relevant statistics, meaning that as we move closer and closer toward 2030 we will become increasingly aware of where the problems are, the delays, the weaknesses, and therefore better informed about how to tackle violent and unstable institutions.
Impakter spoke to Mouhammad Sarhan, a Syrian refugee currently residing in Reyhanli, Turkey. On the topic of safe institutions and societies, he told Impakter:
A just and peaceful society is the place where people try to avoid aggressive behavior and refuse to fight in wars. What should be done to achieve future stability in Syria is firstly to end the war and then publish education between people as well as accounting the perpetrators of war.
Where to Start
There are many great national-level initiatives that can be used as templates to begin achieving SDG 16. For example, Rwanda publishes its annual Governance Scorecard to assess its own governance. The method incorporates assessments from both experts and citizens, and newsletters are published frequently to report on issues such as government accountability. Another model example is the Praia Group Meeting on Governance Statistics, who publish detailed reports about the progress of countries on factors such as peace and rule of law. In Palestine, specialized prosecutors are being trained at an international standard to handle cases of gender-based crime, helping girls and women that are victims of violence get access to justice. Specifically, 15 such prosecutors were delegated to handle cases of domestic violence in the West Bank. The Geneva Declaration on Armed Violence and Development released a report in May 2015 on how a "comprehensive approach to violent deaths can serve to track progress towards a peace and security goal."
In the photo: Arms in the Cote d'Ivoire- Credit to UN.
As we can see,  template frameworks already exist that can be used to evaluate governance and create more peaceful, inclusive and just societies. Let us hope that SDG 16 can build on these, as well as the UNDP's work, to develop its global compass for future peace and security.
The Future of Goal 16
Ascertaining the success of SDG 16, just and peaceful institutions, will not be easy. The goal is invariably linked to the all of other SDGs. Without eliminating poverty, hunger, gender inequality, lack of access to health and education while reducing consumption of our planet's resources, it is likely that unstable and conflict-prone institutions will prevail. Yet, until we have just and peaceful institutions, we will not be able to address the concerns above.
Clearly, it is vital that both are done at the same time, within the larger framework of globally agreed upon Sustainable Development Goals. History repeats itself, but the SDGs provide a chance for us to change that. The goals can be achieved, and they must.
Featured Image: Scales of justice- Photo credit to Shabnam Mayet.
——-
This article is part of our series in collaboration on the Sustainable Development Goals (SDGs) – #SDGStories. Follow the stories with #SDGStories and look for the next installment to our weekly series to learn more about achieving the SDGs across the globe. We can achieve them, and we must.