Editor's Note: This is the fourth piece in a series in collaboration with the SDSN-Y exploring the Sustainable Development Goals. See the introduction to the series here, SDG-12 here, and SDG-15 here.
More and more people are becoming aware of the importance of our environment- or rather, the consequences of not taking care of it. Goal 13 of the UN's Sustainable Development Goals, to be achieved by 2030, is Climate Action. Before we look at specific case studies that are relevant to this particular goal, it is important to acknowledge global climate initiatives thus far.
In 2000, we saw the creation of the Millennium Development Goals. Many of the targets set for achieving goal number 7, Environmental Sustainability, have been met. For example, an increase in afforestation has reduced net forest loss from 8.3 million hectares annually in the 1990s to 5.2 million hectares annually from 2000 to 2010. CFCs damaging the ozone layer have been virtually eliminated, the percentage of the global population without access to clean water sources has been halved and people living in extreme poverty have been given access to better water and sanitation.
Despite this progress, many of the targets have not been reached- a cost already being paid today. For example, global CO2 emissions rose by 50 per cent between 1990 and 2012, and deforestation is still occurring in certain areas at a frightening rate.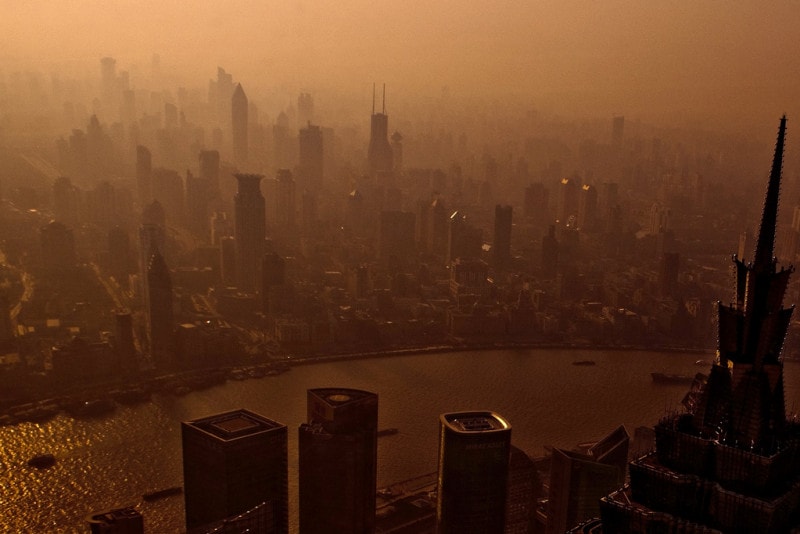 IN THE PHOTO: AIR POLLUTION IN SHANGHAI, CHINA- PHOTO CREDIT TO LEI HAN.
The end of the MDGs in 2015 coincided well with the COP21 in Paris – the 21st Conference of Parties part of the UN Framework Convention on Climate Change. For 11 days 195 countries worked to arrive to the Paris Agreement, whose main targets include limiting global temperature increases to 1.5 Celsius, building climate resilience and adapting finance flows to reduce greenhouse gas emissions.
Let us now go to Sustainable Development Goal 13: Climate Action. The specific aims of the goal are to:

Incorporate climate action into national policy
Strengthen resilience and adaptive abilities
Mobilise $100 billion per year by 2020 to help both 
developing (and developed) countries address climate change and its consequences, and operationalize the Green Climate Fund as soon as possible
Improving the ability of least developed nations to plan and manage climate-change action, with a focus on women, youth, and local/marginalized communities
Increase education and awareness on climate change mitigation, warning, impact reduction and adaptation.
In the targets, there is an overarching theme of resilience. The UN is capitalising on this notion, both with Goal 13 and the other SDGs. This translates to the empowerment of people on the ground in local communities.
To accomplish this, the UN is trying to coordinate large-scale political agreements with local grassroots efforts. If the UN fails to collaborate top-down with bottom-up approaches and without global coordinated action, the planet's surface temperature is predicted to rise by 3 degrees Celsius by the end of the century.
FOOD SECURITY 
The link between climate change and food security has been emphasised in discussions about Goal 13 because with every 1 degree Celcius increase in temperatures, crop yields go down by 5 per cent. Therefore, if the planet increases by 3 degrees by the end of the century, we will have approximately 141 megatonnes less of major crops each year. That is 141,000,000 less tonnes of maize, wheat, and other major crops. This weight in wheat flour would be enough to feed around 770.6 million people for an entire year (eating 2000 calories a day) – the equivalent to 11.7 Frances. That many additional people will go hungry every year if we do not stop global warming.
Even if we manage to cap the global temperatures at the level they are at today, in around 90 years the area of ice melted will be equivalent to the land size of the United States. The figures speak for themselves.
There are many, many initiatives currently underway to address these worrisome effects. For example, to help with the concern of food shortage and distribution, NGOs are stepping up the recycling of food waste.
A prime instance of this is the World Green Organisation in Hong Kong that collects surplus food from Link's fresh markets and redistributes it in care packages to the elderly and underprivileged in the community. As Janice Lee told Impakter, the project recovered nearly 7 tonnes of surplus food in 2015, creating 2300 surplus food packages alleviating poverty. The CEO of the organisation, Dr. William Yu, describes their work:
"Although we are a green group, we do not only look at the environmental dimension. We also take care of the social niche while encouraging the growth of the green economy. With our surplus vegetable project, we reduce waste and cut greenhouse gases coming from landfill sites, but at the same time show care to the marginalised community and lower social isolation."
Conservation International Honk Kong also lead climate action projects. Jude Wu from the organisation shares some of their work with us:
"In recent years we have invested more and more in developing practices for "climate smart agriculture" to minimize climate impacts from farming, developing farming techniques for adapting to climate change such as our partnership with Starbucks' coffee farmers, and developing tools like "Vital Signs" (in partnership with the Gates Foundation) to help farmers and donors understand and protect the health of the ecosystems that support their farms with pollinators, fresh water, and so on."
REDUCING DEFORESTATION
Climate action undoubtedly involves reducing the deforestation of our planet's forests. Ms. Wu describes the work of Conservation International (CI) in Ecuador:
"CI's pilot projects led to what is a now a national program called Socio Bosque in Ecuador, in which the government gives landowners and rural communities direct economic incentives (monetary payments) to not cut down the trees on their land. This is a win-win for poverty reduction and climate mitigation. Socio Bosque has been a huge success already; 2,748 agreements have been signed with landowners, protecting more than 3.5 million acres of forest and providing direct benefits for 173,233 people."

IN THE PHOTO: A KICHWA VILLAGER CUTTING DOWN A TREE TO CLEAR SPACE TO GROW CORN, NEAR THE NAPO RIVER IN ORELLANA, ECUADOR. CREDIT TO CIFOR.
BUILDING RESILIENCE
When asked about ways to build community resilience, Ms Wu says that, "most often, people only think about the 'grey' solutions – using infrastructure or technology such as sea walls. But, there are many ecosystem-based solutions that can be much more effective." For example, a renewed focus on ecosystem degradation could minimise the negative impacts of climate change. To reduce deforestation would reduce the damages of mudslides, or to reduce Mangrove loss would reduce storm surges on coastal areas, to state a few instances.
We spoke to Tessa Mildenhall, from CI South Africa, to see how the projects differ from country to country/continent to continent. Something like invasive alien species spreading through a community's land requires thousands of people to work and follow up if it is to be controlled. Their strategy for limiting invasive species is to bring in a clearing team and subsequently use livestock to graze and trample the land in a process called bioturbation (killing the remaining seeds of the invasive plants).
Another initiative that they are working on, in the Northern Cape, is to support small green businesses. During the El Nino drought during the final months of 2015, communal farmers lost an enormous 80-90 per cent of their lambs.
"To deal with this we have made contracts with the communities, whereby they have agreed to manage the land in certain ways e.g. not grazing in the wetlands in the winter and managing grazing patterns, and in return we give them the breeding stock that are more climate resilient. These are usually rams that can climb higher up the mountains to reach food, and thrive on less water and colder weather."
Another example of a project in the Northern Cape, supported by CI South Africa, is the recycling of used cooking oil to make bio-fuel. The oil is mixed with methanol and potassium hydroxide and cleaned to make pure bio-diesel. The company was established by Earl Muller in 2011 as a response to growing concerns about the effects of conventional diesel on the environment. Not only is the bio-diesel better for the environment and less demanding on our limited fossil-fuel base, but it is also cheaper than conventional diesel.
AGRICULTURAL INITIATIVES
Staying in South Africa, we spoke to Zac, a transport provider and tour guide from Soweto Township in Johannesburg. He described a tomato-growing project in the township:
"These kinds of projects are for women and disabled people from Soweto. They are funded by the government and the process of putting down an application all the way to having the tomato seeds in the ground takes only about 3 months. You can see across the road there a man is growing beans on a small patch of land. It wasn't being used so he took it over and now is doing very well for himself, even though he doesn't have access to any irrigation or fertilizers."
IN THE PHOTO: THE BORDERS OF SOWETO TOWNSHIP IN JOHANNESBURG, SOUTH AFRICA- PHOTO CREDIT: IMPAKTER/CHLOE HOGG
ICE AND OIL SANDS
Moving across the seas to Canada, we find that since Justin Trudeau's election in November 2015, the country has shown a renewed support for climate action. Firstly, Trudeau introduced the new position of Minister of Environment and Climate Change, a position currently filled by Catherine McKenna. During Trudeau's participation in the recent World Economic Forum conference in Davos, he said that Canada is "committed to action on climate change", and that "prosperity is not just a matter of what lies underneath our feet but rather what lies between our ears." We spoke to Melanie Gallant, from Oxfam Canada, about the impacts of climate change on First Nations people.
"The indigenous populations in Canada live on land directly affected by the impact of climate change on the arctic ice shields, as well as commercial activities like mining that affect the quality of the water that they consume. Populations living in the far north who used to be hunters and gatherers in isolated environments might be forced to migrate to other areas. Also, our oil producing provinces have seen a dramatic shift in their reliance on that sector of the economy. Oil sands have been quite a black mark on Canada's environmental record, but with the fall of oil prices and the new government we're hoping that the country will shift away from fossil fuels and find greener energy alternatives."
IN THE PHOTO: A  TAILING POND BEING CONVERTED TO A SURFACE STABLE ENOUGH TO BE RE-VEGETATED IN ALBERTA, CANADA- CREDIT TO SUNCOR ENERGY.
As we can see, there are a number of Climate Action projects already underway all around the world. From Hong Kong to Ecuador, South Africa to Canada, organisations are pairing up with communities to develop environmentally-positive initiatives.
REACHING GOAL 13
With political figures more and more willing to acknowledge and engage with climate change, the first SDG objective of incorporating climate action into national policy is achievable by 2030.
The second objective of strengthening resilience is also achievable, particularly through ideas like World Green Organisation's three-pronged approach including social, environmental, and economic aspects.
The third SDG aim, mobilizing $100 billion per year by 2020 and operationalising the Green Climate Fund, is already underway as seen on their website since COP21.
Fourth, the assistance to developing nations and marginalized communities, is something that is yet to be determined. We know that a lot of collaboration is already happening, but we have to hope that this will continue to grow and to be done while maintaining respect for local knowledge and experience.
Lastly, the final objective of increasing awareness and education should be easy. Naomi Klein's Leap Manifesto, which makes the point that we cannot rely on big corporations to fix climate problems, is helping to mobilize a transition away from fossil fuels and including indigenous populations in the movement. National curriculums will have to bring environmental education to the forefront, as is already being done in the International Baccalaureate high school program.
You do not need to read it from here or hear from the UN's topmost policy-makers that we only have one planet and only one (relatively) limited set of resources. Sustainable Development Goal 13, Climate Action, seems promising and is in line with many environmental initiatives and collaborations already in place. Let us ensure that the bonds grow stronger and that we become more aware of the potential consequences of failing to achieve SDG 13 by 2030.
We can achieve them, and we must.
——-
This article is part of our series in collaboration with the Sustainable Development Solutions Network Youth Division on the Sustainable Development Goals (SDGs) – #SDGStories. Follow the stories with #SDGStories and look for the next installment to our weekly series to learn more about achieving the SDGs across the globe. We can achieve them, and we must.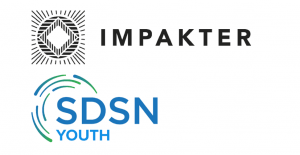 Cover Photo: NORDERNSKIOLD BREEN GLACIER ON SVALBARD- CREDIT TO KITTY TERWOLBECK.