56 kilometers (or just over half the width of Tokyo) is the distance one of North Korea's many missile tests landed from the South Korean mainland earlier this month – a trajectory that didn't leave much room for miscalculation. 
This was just one of over 60 other close-call missiles that have landed off the east and west coast of the Korean peninsula this year, marking an unprecedented escalation in aggression from the dictatorship, and serving as what many now fear is a possible prelude to North Korea's seventh nuclear weapon test.
That this year was a record year of missile firing from the North Korean regime is a fact; why they're doing it, however, and whether we should be worried, is not entirely determined. 
North Korea claims the missile tests are in retaliation to the recent joint US and South Korean military drills in the region – and given the ongoing tense geopolitics between the west and Kim's regime – this is most likely true. 
It's also possible that Kim Jong-Un's weapons programs have made unexpected breakthroughs in recent years, and that the last few months of missile fanfare comes from newfound confidence in the country's sophisticated nuclear capabilities. 
But what's equally as possible is that these tests are a facade, a ballistically unfounded show of force from a 21st Century Wizard of Oz with an ulterior political motive in mind. 
The launch of a ballistic missile of possible intermediate range by the Democratic People's Republic of Korea was a reckless act & a violation of Security Council resolutions.https://t.co/1cBiRDVw8O

— António Guterres (@antonioguterres) October 4, 2022
Provocation escalation
In the 28 years from 1984 to 2012, North Korea fired a total of 31 missiles. Since then, the number of missiles fired has increased six-fold, with almost 190 tests being carried out in the past decade alone.
This escalation has raised questions about the possible advancements of the dictatorship's aerial weapons programs, and more specifically whether their capabilities impose a threat to international security. 
Over the past couple of months the Kim regime has fired a spectrum of short, intermediate, and long range intercontinental ballistic missiles (SRBM, IRBM, ICBM) into the Yellow Sea, the Sea of Japan, close to the coastline of South Korea, and right across the Japanese mainland, triggering air-raids and evacuations in both neighboring countries. 
What's more, since 2006 North Korea has also tested nuclear missiles a total of six times, the last being five years ago. Now, as the regime ups their provocations – both ballistically and with anti-western rhetoric and propaganda – they are believed to be preparing for a seventh. 
"Everybody is holding their breath," said International Atomic Energy Agency Director General, Rafael Grossi, last month, and no one more so than their southern bordering neighbor; South Korea.
On November 13, Seoul's President Yoon Suk-yeol rang the alarm bell and called a meeting with the Korean peninsula's "critical allies," the US and Japan, in which they aligned on a coordinated "unparalleled" response should the North go ahead with testing their nuclear devices this time. 
"We are expecting further provocation," remarked Japan's Prime Minister Fumio Kishida during the trilateral meeting, noting that he looks forward to regrouping and reinforcing "coordination between the US, South Korea and Japan to respond firmly." 
The US Department of Defense has stated that "any nuclear attack by North Korea against the United States or its Allies and partners is unacceptable and will result in the end of that regime," warning that "there is no scenario in which the Kim regime could employ nuclear weapons and survive." 
In an effort to curb an apparent flagrant disregard for UN Security conventions and international law over the years, many countries have imposed hefty economic and trade sanctions on North Korea. But although such penalties (when actually enforced) have hurt the country's growth and economy, they haven't yet proved successful in pressuring the regime to denuclearise. 
Though cruel, Kim Jong-Un is no fool, and doesn't believe that these penalties will be lifted even if he does surrender his nukes. 
The kind of affirmative action that will be required from the US, Japan, South Korea (and rest of the world) to push Kim Jong-Un to comply is yet to be defined, but it is clear that stronger enforced measures rather than more inert sanctions will be necessary. 
U.S. President Joe Biden said he told his Chinese counterpart Xi Jinping that the United States would enhance its security position in Asia if Beijing is unable to rein in North Korea's weapons development programs https://t.co/EtbKQ255lx 1/5 pic.twitter.com/knSvjlsLQ2

— Reuters (@Reuters) November 14, 2022
Why is Kim Jong-Un conducting these tests?
North Korea's motivation to trial its weapons systems in this way could simply be what it says on the tin: a method of testing national missile and nuclear capabilities in preparation for future defensive and offensive aerial operations. 
But what should not be ignored, is that this escalation in warhead testing has occurred alongside many other red flags from the dictatorship, most recently and prominently: nuclear-state self-declaration, an explosion of anti-US propaganda, and thinly-veiled diplomatic relationships with Russia. 
One thing is for certain: North Korea is seeking attention from the world, primarily from the west. What's not entirely certain is their motivation for doing so.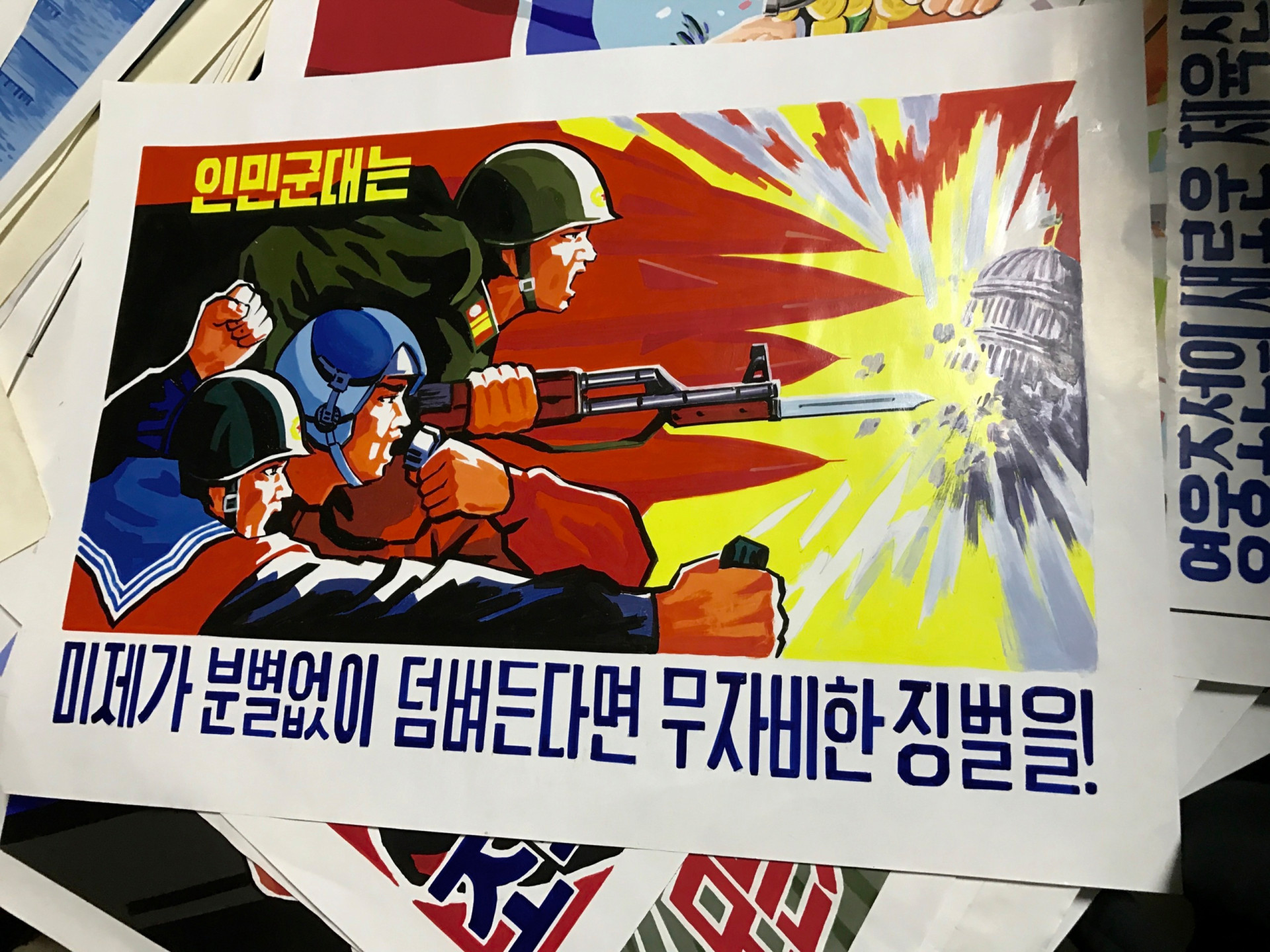 To remain relevant and boost national ego
In the past year(s), we have seen a variety of crises unravel across the world. 
From the spike in extreme weather events to the war in Ukraine destabilizing economies, trade and the geopolitical status quo, attention of the planet's leading powers has been spread thin at best. In some ways it could be said that public interest in the extremist culture of North Korea has shifted more towards morbid curiosity than global threat. 
It cannot be understated however, just how extreme that culture really is, as the North Korean authoritarian regime led by the 38-year-old Kim Jong-Un still remains "one of the most repressive countries in the world," according to the Human Rights Watch. 
North Korea seeks to silence all forms of dissent, maintaining a tight grasp on national perspective to control its people who believe their country is the most advanced, powerful and safest on the planet. The majority of people live without basic human rights and in "fearful obedience" due to the real possibility of execution, kidnapping, torture, forced labor, starvation or imprisonment for any missteps.
---
---
The regime also rigidly restricts civil liberties, withholding access to international media, and prohibiting freedom of movement, expression or thought. Guards are ordered to shoot on-sight anyone trying to flee the country to China, and not only that; sharing ideologies or information from outside the borders is similarly punishable by death. 
It's likely, therefore, that the government's repeated missile tests and exhibition of perceived military strength could serve a dual purpose: appearing powerful to its own oppressed people with access to a different reality, and creating enough noise to remain fearfully relevant in a distracted world.  
But instead of seeking attention or providing a national ego boost, North Korea claims the missile parade is in fact a retaliation to the recent scale-up in joint US and South Korean military drills in the Korean Peninsula, acting as a warning to expect grave consequences if their practice evolves into invasion of North Korea. 
Don't mess with us
The North-South Korean divide and surrounding demilitarized zone (DMZ) is the most heavily armed border on the planet, and with militaries from both countries as well as the US having a presence there, tension is high and trigger fingers shaky.
The US and South Korea are long-standing diplomatic and economic allies. In 2019 they exchanged almost $170 billion in trade, which makes South Korea the "second-largest Asian source of foreign direct investment into the United States" according to the Department of State. 
The two countries' military alliance has also historically been strong, with the United States Forces Korea (USFK),established in 1951, helping to reinstate balance in the Asia-Pacific region, "deter aggression," and ensure the combat readiness of forces on the Korean peninsula. 
The joint force usually carries out annual exercises of combined air, ground and sea special operations, which over the past few months have escalated to a larger-scale part of an operation known as "Vigilant Storm."
To say the increased frequency of defense drills has ruffled the North's feathers would be an understatement. Kim Jong-Un's government has openly labeled the cooperative exercises of his enemies as a deliberately provocative rehearsal for invasion, denoting his own regime's scale-up in missile tests as a direct response. 
The North Korean Foreign Ministry has also repeatedly promised "more powerful follow-up measures" to the USFK military activity it deems a national threat, recently issuing a transparent nuclear warning that any attempt to attack North Korea will result in the US and South Korea paying "the most horrible price in history."
North Korea's distaste for this trans-pacific alliance between its bordering state and greatest enemy is evidently a major contributor to their recent ballistics. But in conjunction with other suspicious activity from the dictatorship, perhaps this close-to-home geopolitical rivalry is not the only motivation Kim Jong-Un has for demanding attention. 
Distraction tactics for Russia
On November 2, the trainline connecting Russia with North Korea was opened for the first time since before the pandemic. The train carried a cargo of 30 grey thoroughbred horses from the east of Russia directly into the dictatorship.
The significance of this oddly specific cargo is still unclear, but after this first equine delivery, more trains have been spotted traveling between the two states on routes which have been dormant for years. 
No conclusions can yet be drawn as to the nature of these shipments, however the movement has occurred amidst emerging reports that North Korea has been discreetly selling arms to Russia. 
Earlier this month the US claimed to have uncovered indications that weapons trade was going on between the two authoritarian regimes, with Kim Jong-Un supplying a "significant" amount of artillery shells to Putin through the Middle East and North Africa in support of his ongoing war in Ukraine, possibly receiving sanction-avoiding oil exports in return. 
North Korea has denied all allegations of selling ammunition of any kind to Russia, but if true, this marks a turning point in bilateral relations between the two pariah countries, which have historically been turbulent over the years. 
Other indications of cooperation were evident in May of this year, when Russia (as well as China) opposed further sanctioning of North Korea's nuclear program, dividing the U.N. Security Council (UNSC) for the first time over penalties for the regime. 
This block clearly impressed Kim Jong-Un, who went on to express public support for Russia's invasion and annexation of Ukraine, later sending wishes to Putin for his 70th birthday openly congratulating him for "crushing the challenges and threats of the United States." 
Russia has also recently spoken of employing thousands of North Korean laborers to help rebuild wartorn area of occupied Ukraine, an agreement which is in direct contention with UN Security Council resolutions. 
Perhaps newfound unity against common enemies has paved the way for old wounds to heal, and the diplomatic bond between North Korea and Russia is deepening. If so, there's a possibility that North Korea's recent missile showers might not only act as a warning to the west, but also as an attempted distraction from Russia's war in Ukraine.
Should we be worried?
It's true that North Korea has successfully launched intercontinental ballistic missiles in their recent barrage of testing (like the one sent hurtling over Japan in early October that sparked air-raid sirens and mass evacuations to underground shelters), but the capabilities of these long-range weapons to reach as far as the US or Europe are still in question.
What's more, recent analysis of debris from a short-range missile recovered from its landing-site off the coast of South Korea revealed the weapon dated back to the soviet-era and allegedly fell into the sea minutes after launching, according to reports from the Japanese coastguard. 
North Korea launched at least one ballistic missile into the sea, as South Korea said it had identified debris from an earlier missile launch as part of a Soviet-era projectile https://t.co/VIWdlcdfIO pic.twitter.com/k4YiqH7GD6

— Reuters (@Reuters) November 9, 2022
A Dutch research group has reported that this particular warhead was actually delivered to North Korea back in the 1980s. The group also noted that the weapons were designed to target aircraft built during that period, and that its capabilities against "modern fast jets such as the F-15 and F-16 is questionable to say the least."
More concerning than how far North Korea's missiles will reach, or whether they will actually detonate them, is the high chance of miscalculation. The landscape around the Korean peninsula is tight and difficult to navigate, and so the margin of error for safely landing test missiles in the sea on either side is worryingly small. 
Nonetheless, any kind of destabilization caused by North Korean provocation is bad news, and despite widespread uncertainty about their military prowess, their infamous volatility in the hands of Russia is an international problem. 
---
Editor's Note: The opinions expressed here by the authors are their own, not those of Impakter.com — In the Featured Photo: A North-Korean propaganda poster. Featured Photo Credit: Tormod Sandtorv/Flickr