What do you get when you put together a group of recently graduated millennials, some bright ideas, and a video camera? A couple of youtube videos? Oh no. You get so much more than that. You get Generation Y Not.
The group was created last July, when three graduates and their cameraman decided to do a 30 day challenge: every day they tried something they had never done before. They named this Project 30 MTL. Doing things like river surfing, featuring on Trevor Noah's Daily Show, and raising $500 for charity in 24 hours, they pushed themselves outside of their comfort zones and became best friends. Now they post videos twice a week on their YouTube channel (Mondays and Thursdays) with the content ranging from funny challenges to spreading messages, including liberating yourself from social constructs and choosing love over fear in the face of recent global events.
Take a look at this video and feel yourself come alive through their journey:
We got a chance to interview the 4 boys, Thomas Brag, Matt Dajer, Ammar Kandil and Derin Emre to find out more about Generation Y Not.
No More Comfort Zone
The boys are choosing to turn their backs to a predictable and mundane future, and to instead embrace the unknown. Thomas describes their previous sense of pure frustration, "we felt stuck on a path that we had to get out of, and we found that the times we grew the most were when we were trying new things." Matt further reflects that "there are several different paths to take and this one's for us. We don't want to think about resumes and interviews- our plan is to never have to do that. Instead, we hope to keep running this independent movement."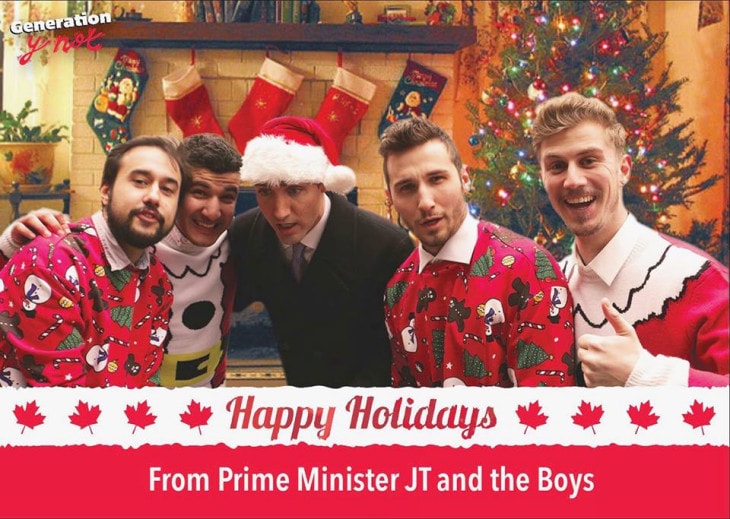 In the photo: Generation Y Not poses with Canada's Prime Minister, Justin Trudeau, for a holiday card. The cards were sold and proceeds sent to the Syrian Refugee Relief Fund.
Each time they make a video and try a new challenge they gradually become accustomed to overcoming fear of discomfort and new starts. "There are different types of fear, and fear of social situations is what we're focusing on," says Matt.
Spreading a Message
When asked about their most rewarding video so far, they didn't hesitate for a second. "Love over fear," tells Ammar, "because it was everything that we stand for. It was beyond the Paris attacks, it was more of a decision that we face on a daily basis." In this powerful and moving video, Thomas, Matt and Ammar stand in a Montreal metro station and send out a message of solidarity and love after November's series of attacks. The video went viral, and we'll let you see why.
Upon reflecting on what they'd learnt through making the video, Matt says that, "we were overwhelmed with messages of love and support. It's not necessarily about leadership; it's more that a lot of people want social change and seeing others who share those same frustrations means a lot." Ammar adds that they were amazed at the positive impact they had on individuals, encouraging groups from around the world to make their own Love Over Fear videos.  "There's a difference between having a video seen and having our message heard," concludes Ammar, who pioneered the group's idea of Love Over Fear.
Millennials
Another message that Generation Y Not wants to spread is that the Millennial generation is neither lazy, apathetic, nor disengaged. "I really don't understand why people say this," explains Thomas, "I actually think it's the opposite. Older generations are already in their life routines, they're the ones who are disengaged. The people saying that about the Millennials are the ones who raised us- we didn't cause these issues, and it's not because of our generation that we're in this mess."
As Thomas describes, the people taking to the streets and pushing for change are Generation Y, the ones leading Occupy Wall Street, standing against the police harassing the black population in the US, and wanting to do something serious about climate change. Millennials are more politically engaged than any other generation so far, using social media to learn and express their political views, and demanding more pragmatic and authentic political systems. Thomas adds that "there is a lot of political slactivism, but that's because we're the first generation to be so engaged on social media." Generation Y Not has every reason to reject the existing stereotype about the Millennials.
---
Related articles: "ZARIA FORMAN – VISUAL AWARNESS" by TRINIDAD BLAY
"ALWAYS LOOK UP" by WALKER MORIARTY
---
Friendship
We then asked Generation Y Not to describe the friendship of their group. "Dysfunctional," says Ammar, "transparent," says Matt, and "nebulous" says Derin. They all laugh and put their arms around each other like brothers. "We're really close," Ammar explains (left in the photo), "and we're hoping to inspire people to think beyond social constructs. That's why we're so comfortable putting our arms around each other in public and things like that. We know that masculinity is about more than acting tough."
When the boys need to de-stress and take a break from creating their videos, they play a game they call 'three-on-one'. In short, they take it in turns to stand in the middle of the room and make the other three laugh. The first to give in and laugh is the next one up. When playing the game, they have to let go of all inhibitions and be as ridiculous as possible, expressing themselves more naturally and all ending up on the floor laughing. As we can see, whether in public or in private, Generation Y Not is always pushing itself out of its comfort zone and not taking itself too seriously.
Looking to the Future
For 2016, the group is planning to travel from Montreal to LA, but are waiting to hear more about signing a contract. Hopefully they will be announcing more in the near future!
To finish, Generation Y Not wants to re-emphasize their mantra, "embrace discomfort". Try new things, explore alternatives, and don't settle for a path carved out by someone else. Millennials, step up and join the movement. Why not? We have nothing to lose, and everything to gain. And keep looking to Generation Y Not for inspiration.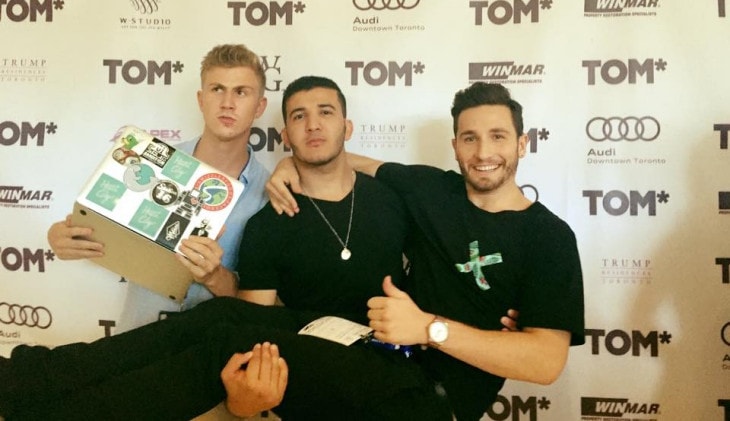 All media taken from the Generation Y Not Facebook and YouTube page.
Unrelated note- Thomas knows Flume.