David Morley has been President and CEO of UNICEF Canada since March 14, 2011. Prior to this, Mr. Morley served as President and CEO of Save the Children Canada, and before that was Executive Director of Medecins Sans Frontieres/Doctors without Borders Canada.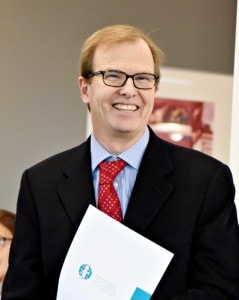 Mr. Morley's career began when he volunteered with street children in Central America in 1978. That experience led him into numerous community development and humanitarian projects in Congo, Zambia, Mozambique, Sierra Leone, Mexico, Dominican Republic, El Salvador and Brazil, Iraq, and many more.
Among multiple other things, Mr Morley has served as a mentor with the Trudeau Foundation and is currently a member of the Board of Directors of the Stephen Lewis Foundation, as well as being the Advisory Board of McGill University's Institute for the Study of International Development. Mr Morley has been given several awards, including the Commemorative Medal for the 125th Anniversary of Confederation, the Queen's Jubilee Medal and Carleton University's Humanitarian Alumni Award. His books, Under The Tree and Healing Our World: Inside Doctors without Borders, have won a number of awards.
Editor's Note: This interview does not represent the official positions of UNICEF but the interviewee's own views.
 Could you give us a brief overview of your work with MSF, Save the Children, and UNICEF?
David Morley: The aspect that has been the same with all three, which for me has been an incredible privilege, is running an organisation with people who are incredibly committed to global improvement. Each organisation focuses on different issues – MSF on medical humanitarian relief, Save The Children on children's rights, UNICEF a hybrid of NGO and multilateral helping children – but the commonality is getting to work with people who have an incredible dedication to the welfare and well-being of the world's most forgotten people.
Could you describe what it is like working in the field, particularly in refugee camps? What is your role when you go to these areas?
D.M.: I used to have a more hands-on role when working with MSF, monitoring food distribution and logistical support or taking formal responses from surveys to find out the needs of people in a refugee camp. Now when I go it's much more of a monitoring visit. It's an opportunity to assess how our work is going and that we are being responsive to the needs of the people who are there. My work tends to be more at the global level of trying to steer, and be part of the groups steering, what UNICEF is going to be doing over the next 15 years in terms of the SDGs. A lot of what you try to do is the témoignage part that MSF talks about, the bearing witness and trying to figure out how we convey to Canadians all that is going on in refugee camps and in a forgotten part of the world and doing it in a way that will make those Canadians want to get involved and engaged.
     In the photo: Children at a Syrian refugee camp, Karkosik Erbil- credit to Mustafa Khayat.
Could you tell us about a moment during your career with UNICEF that you felt especially moved or compelled to do something?
D.M.: It happens every day. Every morning I get information about what's going on in places around the world and there's an obligation to try to respond and do as much as possible. It was right from the very first group of children with whom I was working 35 years ago when I went to Costa Rica as a volunteer and I got to know those children, helping a little with after-school programs. These were children who were living on the streets and this program provided a lot of support to them. I had gone with the supposition that these kids were going to be so pushed down by life that they weren't going to be able to engage in anything, or to only do so with anger. Instead I found myself realising that so many of these children were hungry for positive human relations and able to build friendships and provide love and care, reciprocating when love and friendship was offered. Ever since then I see more of the same.
I always wondered what the children that we tried to help got out of our work. Then I see things like this: last weekend one of the women that I had met 35 years ago in Costa Rica, when she was just 9 or 10 and had been on the streets, lost her husband.  And that same group of kids – now in their 40s – were on Facebook and working together to provide support for this 45 year old woman and her children. My goodness, I remember pictures of her friends and her when she was 10 or 11 years old, and they continue to replicate that sense of community and support today. With this particular project in Costa Rica I remember thinking when things would go wrong: "we have really messed up." But the big picture is that it worked. And whenever I get close to something, I always realise that there are more people in the world trying to do good things than bad things.
---
Related articles: "#SDG STORIES- LAUNCH OF OUR SUSTAINABLE DEVELOPMENT GOALS SERIES" "YOU CAN'T DESTROY A MOVEMENT: INTERVIEW WITH CAPTAIN PAUL WATSON" 
---
How do you re-adapt to life at home when coming back from field missions?
 D.M.: It is always harder coming home. One of the successes, if you can call it that, of middle-class life and countries is that we don't often have to come to terms with these life or death desperations. The first time I came back from my first fieldwork experience, I freaked out. I freaked out at how luxurious the restaurant was where my parents took me to welcome me back. I alienated a lot of my friends. But the friends that stuck with me are still friends now, and the new friends that I have made, who have shared similar experiences, are also lifelong friends.
In the photo: UNICEF and AJCOM team on the ground sensitizing people in Conakry about Ebola- Credits to UNICEF Guinea.
I used to feel superior and that's a really good way to lose more friends. But now, part of my job is to determine how to translate an incredibly complex reality of injustice back to Canadians who are beneficiaries of this unjust world.
But I don't want to get so inured with the refugee camps that in order to handle it I start thinking that I can deal with it because I'm tough. I see so many people trying to do that: closing themselves off. For the people living in these camps, you just have to try your best to feel and understand the good and bad that they are going through. And yes, that means re-entry back home is always a little bit harder. But I do not want to ever get into the position where I feel like I've seen it all and feel tough, because then I would no longer be open to everything that there is to take in.
Rachel Kiddell-Monroe from MSF has described a humanitarian existential crisis happening at the moment (due to certain events such as the current Burundi crisis, or the bombing of the MSF hospital in Kunduz). Do you share the same concern? How do you deal with this humanitarian existential crisis? 
 D.M.: I think what's bigger now is that we're involved in the war. Before 9/11, these were almost always someone else's wars, (even if the west was backing one side or another). So we could really feel like we were impartial or independent, even if up the chain our government supported one side or the other.
In the photo: Boy hiding the Syrian refugee camp, Karkosik Erbil- credit to Mustafa Khayat.
Now, since 9/11, we are far more directly involved in the conflicts. Because most organisations that have the ability to be helping on the ground are western in nature, we are no longer independent in nature. I think back to the US bombing in North Vietnam and how many organisations and western agencies weren't in there trying to help. We just didn't try. Whatever this global thing that's going on between radical Islam and the secular west is, it has changed things for sure, but I'm not yet sure of the extent.
We didn't do much for Rwanda and we aren't doing much with Burundi. It's not a new existential crisis. There is something going on, and the world order is changing. It makes me think of one of my favourite quotes is by Antonio Gramsci:
"The crisis consists precisely in the fact that the old is dying and the new cannot be born; in this interregnum a great variety of morbid symptoms appear."
The old here is global governance based on the nation state, and whatever the new is hasn't been born yet. Maybe there's a crisis of global governance and good in between. That to me is the new and more existential crisis.
How do you (and UNICEF) balance your approach to development to incorporate addressing both systemic and symptomatic issues?
 D.M.: Well to start, how do you define what is the systemic problem? And who defines it? Is the problem that the western neo-liberal world is creating weak states, or is the problem that not enough people are being able to get wealthy? Then, do you say that a symptom of this is that not enough people have access to clean water? You try to help that by providing wells, but the systemic approach is making sure that the ministry of water is going to be maintaining those wells. And to do that you need enough budget support. That'll eventually need to come out of tax supports. Or perhaps the private sector can finance it. You see? It's about finding solutions with both the system and the symptoms, which isn't easy.
There is no humanitarian solution to a humanitarian crisis. The solution must be political.
If there was one thing that you could change about the development or aid world, what would it be?
 D.M.: I wish we didn't need it. If we had greater equity, we wouldn't need it. To a lesser degree, I think that ultimately we're all anti-poverty and inequity and I wish there were more people who were involved in it. There's something wonderful about the notion that over the last 100 years we've been able to see more people fighting for social change and rights, and it's evolved to become a global movement, so clearly this is so big that we can't articulate it. But I just wish we didn't need the development or aid world.
With all of the insight and experience you have, what message would you want to pass on to humanitarians wanting to enter the field, especially from the millennial generation?
 D.M.: I'm always suspicious of people who will refer to themselves as humanitarians, because all we really are being are people trying to do a little good and I've been very blessed that I've been able to make it my career.
I think it's so important that we need more people doing this. If it ends up being your career, you're extremely fortunate. You have to always listen, keep your heart open, keep your brain open, and learn lessons from the people's lives that you're working with. This work for me is a gift, a calling by chance through my volunteer experience. Do it: join this movement. I know it's hard because there aren't many jobs and you don't make a lot of money from it, but it is so incredibly rewarding.
Join this and it'll be one of the best things you'll ever do.
Top photo: Provided by David Morley.